National Tour for Calamity Jane
Big Success for a Little Neglected Musical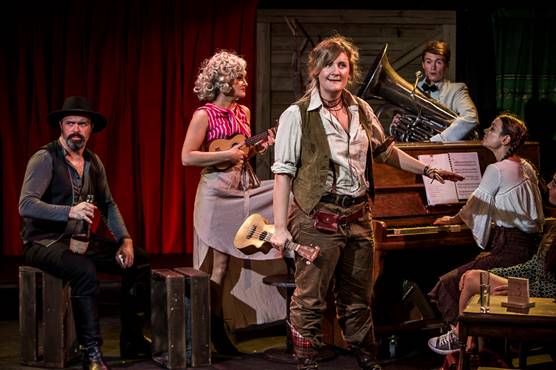 After the enormous success of the sold out season of CALAMITY JANE in March this year, One Eyed Man Productions in association with Neglected Musicals and Hayes Theatre Co have announced a national tour for the production in 2018.
"Directing Calamity Jane was one of the most fun and joyous experiences of my working life – and it was one of those rare occasions where that fun and joy also infected the audience every night. So I couldn't be more excited to take the show on the road and bring even more audiences through the doors of the Golden Garter saloon. I can't wait to stand back and watch Virginia Gay and the rest of the madcap cast take over some of the best theatres in the country," said director Richard Carroll.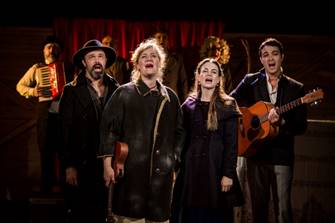 Best known from the beloved 1953 movie musical with Doris Day, and the HBO series Deadwood, the courageous individuality of Calamity Jane has delighted audiences for decades. With a fierce disregard for gender expectations and cultural limitations that was centuries ahead of her time, there's no better time to re-visit and re-examine this remarkable woman.
Staring Virginia Gay (All Saints, Winners and Losers) as Calamity Jane, hers is a bold and unconventional Calamity. "I am rigid with excitement to be back in Calamity's dusty, dusty shoes," said Virginia.  "She is one of my all-time favourite characters, and to get a chance to take her to more people to so she can strut and howl and play and drink with them, all over Australia, goshamighty, we're gonna have one helluva party up in that Golden Garter!"
Joining Virginia are original cast members Laura Bunting (Rent, Side Show) as the charming Katie Brown, Anthony Gooley (Of Mice and Men, All My Sons) as Wild Bill Hickock, Rob Johnson (Carrie, The Detectives Handbook) as Francis Fryer, Matthew Pearce (Rent, Rolling Thunder Vietnam) as Lt Danny Gilmartin, and Tony Taylor (As You Like it, The 39 Steps) as Henry Miller. Sheridan Harbridge (Nosferatutu, The Detectives Handbook) re-joins the cast as Susan/Adelaide Adams at Canberra Theatre Centre and Belvoir.
Featuring timeless standards such as The Deadwood Stage, Windy City, Black Hills of Dakota, and Secret Love, this stripped-back, rough-and-ready reimagining shucks off the buckskin and brings a barrelful of dirt and grit to the classic musical. Directed by Richard Carroll (Side Show, The Show Goes On), the production stars a ragtag band of acclaimed comedic actors and musicians who share all the other roles.  Audiences will be immersed in the world of the Golden Garter Saloon – alive with whores, gamblers, and habitual jeopardy – and can expect an unruly and unpredictable ride. Performed with piano and a grab bag of other instruments, this production injects a raucous spontaneity into a night at the theatre.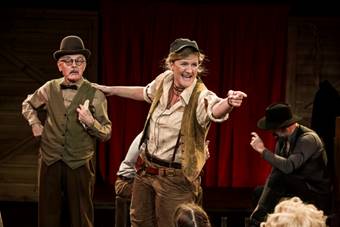 "Along with being outstandingly clever, Calamity Jane is gut-bustingly funny and has an extraordinarily generous heart. Crucially, it is blessed with a central performance as fine as any seen on our musical stages since, I don't know, forever." – Deborah Jones, The Australian
"From the moment you step inside the theatre, you know you are in for a rollicking good time at this joyously entertaining production… Gay is sensational as Calamity. She just about blows the roof off the theatre… A blissfully funny production." – Jo Litson, Sunday Telegraph
CALAMITY JANE
Riverside Theatres, Parramatta


From Wednesday 21 February. Seven shows only
On sale to Riverside members from 9am September 6
https://riversideparramatta.com.au/
IIlawarra Performing Arts Centre


Performance dates from Wednesday 7 March. Seven shows only
On sale: Merrigong Season Ticket Holders – 14 November | General Public – Tuesday 5 December
www.merrigong.com.au
Canberra Theatre Centre


Performance dates from Wednesday 15 August. 7 shows only
Season tickets go on sale on 17 October 2017.


www.canberratheatrecentre.com.au/show-calamity-jane

 
Belvoir Theatre, Surry Hills


Performances from Thursday 23 August through to Sunday 30 September
Tickets to Calamity Jane are currently only available as part of a Belvoir 2018 Season subscription. Single tickets will go on sale in 2018.


https://belvoir.com.au/
Melbourne
Dates and venue to be announced.