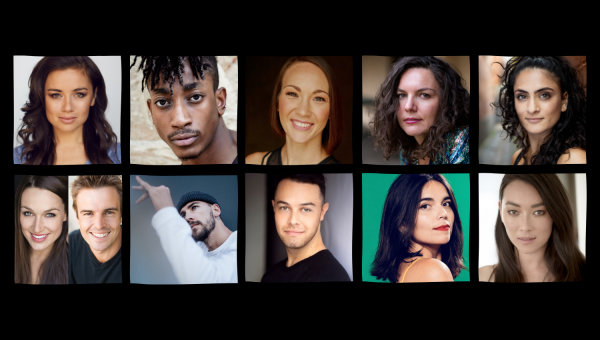 BTC Podcast is Finally Back
Star Studded Line Up This Season
After the success of two seasons last year, performing arts podcast Beyond the Curtain (BTC) is back with a star-studded line-up of 11 unique individuals from various disciplines across the industry in a jam-packed 10-episode third season.
Hosted by Melbourne creative gal and passionate theatre advocate Samantha Laurence, BTC aims to connect the performing arts through human stories.
"After taking a break following Season 2, I am very excited to be back for Season 3 of Beyond the Curtain. The ongoing crisis that the arts industry faces as a result of the pandemic is heartbreaking and my hope is that this podcast brings some joy and light into the ears of those who need it most," says Laurence.
BTC highlights the human being behind the creative. It is a space for sharing, inspiration and positivity where people from all walks of life are welcome.
"This podcast really is my heart and soul. I believe in the arts and I believe in the power of storytelling. This platform was created to be inclusive, inspiring and uplifting. The forever optimist in me will always look for the silver linings in life and I will continue to champion the arts and highlight the beautiful human beings within it," Laurence continued.
Available from today with weekly episodes to follow, this season's artists include Alinta Chidzey, Coco Maria, Eliza Hull, Jarrod Draper, Jillian Green, Katie Sanchez, Luca Dinardo, Reece Darlington-Delaire, Steph & Tim Maddren, and Rob McLean.
"I love hearing everyone's unique journey through life and I am continuously grateful for the vulnerability and generosity of spirit from the BTC guests. This season we have been blessed with another stellar line-up of supremely talented artists who share openly about their lives. I know my listeners will take away so much from these episodes, especially given the ongoing struggle to connect during the pandemic," says Laurence.
We are living in a unique moment in history and more than ever, we are craving human connection.
"The arts are crying out for support. The stories told in this season of BTC are powerful and raw. They will touch people at their core, make them feel seen and valued all by celebrating the beautiful fragility of the human experience," says Laurence.
Episodes will drop every Wednesday and go through until the end of November. For a full breakdown of each episode see below and listen to some guest highlights in the Season 3 trailer here.
Episode 1: Alinta Chidzey, the sparkling diamond of Moulin Rouge! The Musical, shares how she successfully auditioned for the role of a lifetime whilst heavily pregnant and commenced rehearsals shortly after giving birth to her daughter, Harley. Alinta gives insight into the rehearsal process during a pandemic and highlights her favourite moments from the show for audiences to look out for.
Air date: Wednesday 15 September
Episode 2: Reece Darlington-Delaire joins us from London to share his experience working on The West End as well as the importance of diversifying to fuel and express your creativity in other ways. He began filming the BLM protests in London last year which was the catalyst for his successful film making company, Silver Cactus Productions. Reece is currently performing in The Lion King.
Air date: Wednesday 22 September
Episode 3: Jillian Green shares how she has carved out a successful career in musical theatre as a swing and chaperone, as well as balancing performing whilst living with diabetes. Jillian is currently performing in Charlie and the Chocolate Factory.
Air date: Wednesday 29 September
Episode 4: Eliza Hull is an enigmatic singer-songwriter with new work about to be released. She shares her career pathway into music and how she lives with a disability that she hid for most of her life.
Air date: Wednesday 6 October
Episode 5: Luca Dinardo shares her experience working as a swing in the musical Hamilton and dives into a discussion on mental health and its particular prevalence in today's society.
Air date: Wednesday 13 October
Episode 6: Steph & Tim Maddren share their individual career pathways and experience running their regional production company Got Ya Back Productions whilst parenting two children.
Air date: Wednesday 20 October
Episode 7: Rob McLean is a contemporary dancer, teacher and One Dance Collective co-founder. In this episode, he delves into a deep discussion about the beauty that can come out of struggle.
Air date: Wednesday 27 October
Episode 8: Jarrod Draper is a proud Wiradjuri man and was the first Indigenous performer to be accepted into WAAPA. Listen to him discuss the importance of representing his Aboriginal heritage on the grand stage of Moulin Rouge! The Musical as he paves the way for future generations.
Air date: Wednesday 3 November
Episode 9: Coco Maria shares the highs and lows behind her successful career as an international DJ as well as uncovering the power of hypnosis and manifestation.
Air date: Wednesday 10 November
Episode 10: Katie Sanchez is a successful model and commercial dancer who has always placed importance on her personal life away from the performing arts. In this episode, she shares her mixed race cultural upbringing, career pathway and work/life balance, which now includes mothering her first child, Yumi.
Air date: Wednesday 17 November    
Listen to Beyond the Curtain from wherever you listen to your podcasts.
Apple Podcasts: podcasts.apple.com/au/podcast/beyond-the-curtain/id1493170375
Spotify: open.spotify.com/show/28gUAFnkBj4BmCFFqFC4tO 
Stay connected with Beyond the Curtain.
BTC Website: beyondthecurtain.com.au/
BTC Facebook: facebook.com/beyondthecurtainaus
BTC Instagram: instagram.com/beyondthecurtainaus/
BTC YouTube: youtube.com/channel/UCHH4IUKgoBxEBHsFa4tX2Yw