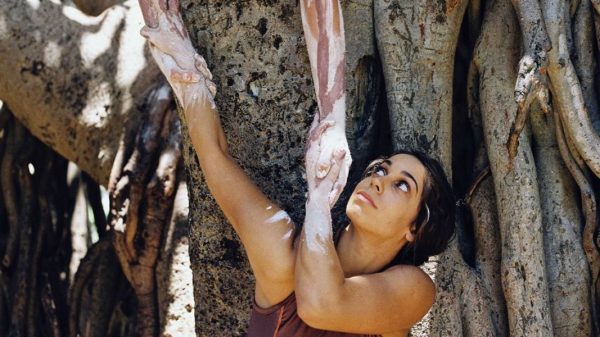 Presented by Darebin Arts Speakeasy
20-30 April 2023
Na Djinang Circus is bringing their award-winning show, Arterial to Darebin Arts Speakeasy at the Northcote Town Hall Arts Centre. Arterial is a moving acrobatic performance that links people, country, and culture, where the unseen bonds between the body and the land become beautifully visible. It's like a tuning fork that picks up the undercurrents of connection felt by First Nations People and resonates out through dynamic acrobatics and heart-warming stories.
Darebin City Council Mayor Julie Williams says, "We are thrilled to be presenting Na Djinang Circus as part of our Darebin Arts Speakeasy program. Not only is their performance Arterial of an extremely high calibre, but it also showcases First Nations creative companies at their finest. 
 This family-friendly acrobatic show allows audiences to connect with First Nations culture and peoples, an experience Darebin Council is committed to providing. As this work is non-verbal, it's also an excellent opportunity for our deaf and English as a second language communities to be welcomed to fully enjoy the experience".
Led by Wakka Wakka man, Harley Mann, Na Djinang Circus aims to develop work that champions the next generation's social and political attitudes and create work to challenge our own perceived ideas about contemporary Australian Society.
Debuting at Yirramboi in 2021, this presentation of Arterial has been redeveloped, fine-tuned and incorporates an original composition by Danni A. Esposito, a trans, non-binary composer and sound designer. Arterial is current, urgent, and rich with connection. The story holds new voices, opinions, acrobats, and connection to culture.
As it's almost exactly two years since Arterial's premiere, Harley is eager to show new and existing audiences the tweaks, additions, and overall refinement that has been made to perfect this performance. The trailer for Arterial can be found here.
Harley says, "For thousands of years story and performance have been used as markers of particular moments in time. It's a way we can record history, remembering and learning from our past. When we premiered Arterial we lived in a very different time, a lot has change and a lot will continue to change. I'm thrilled to see how this story has grown with the world but also how it can act to connect us to our history and ancestors."
Saturday 22 April is our dedicated Blak and Blak ally night to gather and witness Arterial and celebrate Blak culture.
Arterial by Na Djinang Circus is a chance to acknowledge country, be inspired and be enchanted by emotion-evoking and effortless movement.
Background
 Na Djinang is a Melbourne based contemporary circus company. Director and founder, Harley Mann, started Na Djinang Circus in 2017, drawing from his own Aboriginal heritage as inspiration. Under Harley's guidance, Na Djinang premiered a sold-out season of Arterial as part of Yirramboi festival in 2021. Harley was honoured with the 2018 Melbourne Fringe Award for Best Emerging Circus Artist. He was also chosen as the youth representative for the 2018 circus talk as part of the Sydney Festival. 
Danni is a trans, non-binary composer and sound designer who works across theatre and film. They are a recent graduate of Victorian College of the Arts and hold a Bachelor of Fine Ars in Production. Some of Danni's credits include Hydra for Darebin Arts, Overflow for Darlinghurst Theatre Company, Cactus for La Mama, Slutnik,for Midsumma, and Stay woke for Malthouse Theatre. Danni was a panel member for the 2022 Green Room Awards and received a Green Room nomination for their work on Hydra. They were also nominated for a Sydney Theatre award for Best Composer for their work on Overflow.
Darebin Arts Speakeasy aims to support developing works and artists, encouraging them to thrive and discover new elements of their artform or performance that were yet to be realised. 
Over the past decade Darebin Arts Speakeasy has supported over 1,500 artists to create over 150 original works presented to over 75,000 patrons, receiving 40 creative industry awards and a further 116 nominations. Darebin Arts has supported many of the ground-breaking artists and companies that make Melbourne's art sector so iconic: RAWCUS, Ilbijerri Theatre Company, The Hayloft Project, Little Ones Theatre, Stephanie Lake Company, Elbow Room, MKA, Double Water Sign, and lead artists like Joel Bray, Michele Lee, Emilie Collyer, Anna Seymour, Stella Young and Sammy J. 
Further information on Arterial is available at arts.darebin.vic.gov.au