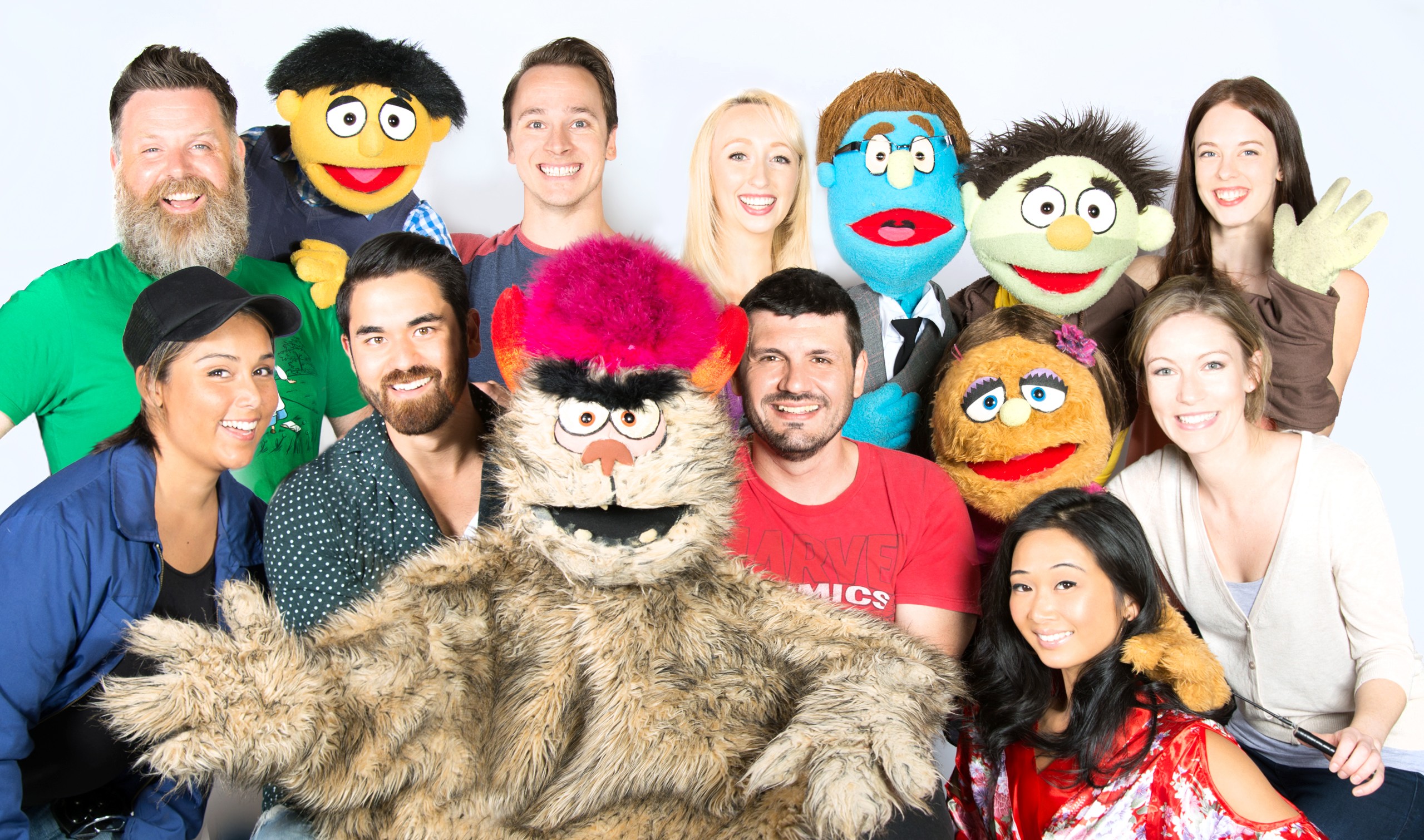 New theatre company brings Tony Award-winning musical to Melbourne International Comedy Festival
Trifle Theatre Company brings Tony® Award-winning puppet show musical Avenue Q to the 2015 Melbourne International Comedy Festival, opening on Friday 27 March at Chapel Off Chapel.
Winner of the Tony® TRIPLE CROWN for BEST MUSICAL, BEST SCORE and BEST BOOK, Avenue Q is part flesh, part felt and packed with heart.
This Muppets-meet-South-Park-via-Broadway show is a laugh-out-loud, adults-only, Sesame Street parody*—and definitely not for the kids.
*Not actually associated with Sesame Street. **THIS SHOW IS NOT FOR CHILDREN**.
Trifle Theatre's Avenue Q stars an experienced and highly accomplished cast and crew of musical theatre professionals including well-known director and actor Stephen Wheat (Hello Dolly, The World Goes Round, William Finn's Elegies, Pippin); TV and theatre actor, singer and dancer Jordan Pollard (MTV Awards, Australia's Got Talent, X Factor, Australian Idol; Chess, Pirates of Penzance, Singin' In The Rain, Anything Goes); musical theatre performer Leah Lim (The King & I, King Kong, Miss Saigon, West Side Story); and choreographer Michael Ralph (So You Think You Can Dance, My Fair Lady, Pippin, Happy People).
Executive Producer Sarah Golding, who also plays puppet characters Kate and Lucy, holds degrees in medicine/surgery and biomedical science with honours in biochemistry; and one of the actors, Zuleika Khan, trained as a nurse before turning to musical theatre, and starred in her own show, Triage! A Nursing Cabaret.
AVENUE Q by TRIFLE THEATRE COMPANY
Venue: Chapel Off Chapel – The Loft, 12 Little Chapel Street, Prahran
Dates: Fri 27 March – Sat 11 April (previews Wed 25 and Thu 26 March)
MEDIA NIGHT: Friday 27 March
Tickets: $43.50 Full, $38.50 Conc
Times: Tue – Sun 8pm, Sat matinee 2pm
Bookings: comedyfestival.com.au, chapeloffchapel.com.au or (03) 8290 7000
Avenue Q—The story:
Avenue Q opened off-Broadway at the Vineyard Theatre in March 2003, where it gained rave reviews and had its season extended four times. It went on to be performed on Broadway and with 2,534 performances, ranks 23rd on the list of longest running shows in Broadway history.
Written by Robert Lopez and Jeff Marx, Avenue Q is a coming-of-age parable that satirises the issues and anxieties associated with leaving college and entering the adult world, and covers themes such as racism, sexuality and pornography. Its characters lament that they were told by their parents, and by children's television programs such Sesame Street that they were special; but as adults, they discover that in the real world their options are limited, and they are no more special than anyone else.
The musical is notable for its use of felt puppets animated by unconcealed puppeteers, alongside human actors.
The show tells the timeless tale of new college graduate Princeton, with his BA in English, who is done with university and ready to take on the world. He moves into a shabby New York apartment in the only neighbourhood he can afford: way out on Avenue Q. There, Princeton meets Kate (the girl next door), Rod and Nicky (housemates bearing an uncanny resemblance to Bert and Ernie), Trekkie Monster (a reclusive internet sexpert), and other colourful neighbours.
Together they cope with their everyday struggles and help Princeton on his voyage to discover his purpose in life. It features songs such as 'If You Were Gay', 'Everyone's A Little Bit Racist', and 'The Internet Is For Porn'.
While this show is not suitable for children, older teenagers may enjoy it—parental discretion is advised.