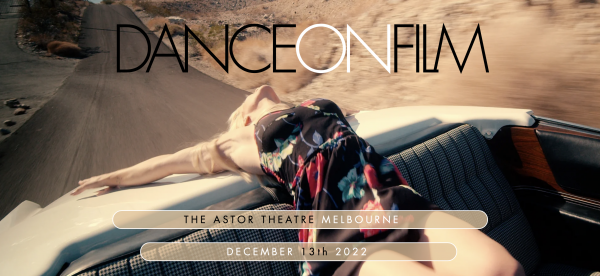 The Anniversary

 by Stephen Agisilaou
The Astor Theatre
 DANCE ON FILM is an evening curated by dance visionary Stephen Agisilaou featuring two short films made by local dance creators Sean Higgins, Adrian Spuria and Lion Heart Dance Company alongside the Australian premiere of Agisilaou's acclaimed dance feature, The Anniversary, at The Astor Theatre on Tuesday 13 December.
The Anniversary premiered in March 2022 at the Palm Springs Art Museum and is a story told only through dance and music, no dialogue. It features a cast of over 50 dancers with the youngest aged 11 and the protagonist played by 71-year-old dance icon, Shea New.
"This film's intent was to feature the dance community of Palm Springs and capture the iconic mid-century modern architecture the city is known for. My number one priority coming out of the pandemic was to reawaken the dance industry in a project that was all inclusive," said Agisilaou.
Agisilaou has been living in the USA since 2017 and is currently the Artistic Director of The Palm Springs Dance Project and Resident Choreographer for the Berkshire Opera Festival.
"When people experience my work I want them to turn off from their lives and run away with me. I want them to leave reality as if a hazy dream occurred, and to feel like life can be just as unknown and exciting once it's all over," said Agisilaou.
Higgins, Spuria and Lion Heart Dance Company have all been at the forefront of dance on film in Melbourne with each of their films featuring the styles of commercial dance, hip hop, musical theatre and contemporary.
TEN is a ten-part film series focused on the exploration of the ten major planetary bodies used in astrology. Each of the planets govern a different part of the psyche, a level of consciousness or process of the human experience. Using various mediums, TEN seeks to embody and examine the significance and meaning of the planets while giving them physical form.
Audiences are invited to connect on a personal, emotional, spiritual or creative level with this series as it explores themes of identity, emotion, love, sex, freedom, connection and transformation.
"TEN is the culmination of monumental work, dedication and talent the Melbourne creative industry has to offer to the world. Each piece has a unique ensemble of performers bespoke to the themes and atmosphere of the concept. TEN was produced and filmed throughout the pandemic creating a chance for the dance industry to expand and connect to other creative industries, in a time when creativity was stifled," said Higgins.
Shot in iconic Melbourne venue The Supper Club, this smoky, sexy, jazz short film features Lion Heart Dance Company under the direction and choreography of Agisilaou.
"Stephen and I have known each other and worked together on projects for over 13 years. From back when he was my teacher, Stephen has always had a grand and elaborate sense of whimsy and fantasy behind his work," said Cure.
DANCE ON FILM is an evening to acknowledge the countless creatives, performers and artists that continue to make art in Melbourne.
For tickets head to trybooking.com/events/landing?eid=955959&