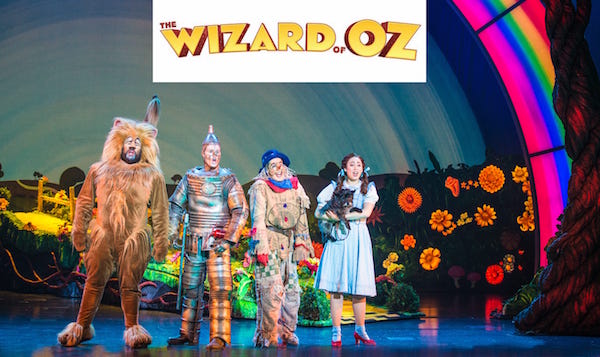 Searching for Australia's Dorothy
Auditioning for the lead role in The Wizard of Oz Musical
Applications Close June 11
The world's favourite musical The Wizard of Oz is returning for an Australian tour later this year. It has already been announced that the new production will star Anthony Warlow as The Wizard and Professor Marvel, Lucy Durack as Glinda the Good Witch and Jemma Rix as The Wicked Witch of the West.
Now, the producers are looking for who will wear the ruby slippers of Dorothy made famous in the 1939 film by the legendary Judy Garland!
Producers John Frost and Suzanne Jones are looking for a new young star to take on the role of Dorothy in The Wizard of Oz, with auditions later this month.
Dorothy Gale is the heroine of the story, whose travels through Oz bring her friendship and adventure. She is brave, smart, compassionate, selfless and encouraging to others. Aspiring Dorothys needs to be 18 to 30 years old, no less than 160cm and pass for 16 years of age. Dog lovers are encouraged!
The London Palladium production of The Wizard of Oz will have its Australian Premiere in Brisbane at the Lyric Theatre, QPAC from 4 November 2017 before travelling to the Capitol Theatre, Sydney from 30 December. 
Developed from the ever-popular MGM screenplay, the London Palladium production of The Wizard of Oz contains the beloved Harold Arlen and E.Y. Harburg songs from the Oscar-winning movie score, all the favorite characters and iconic moments, plus a few surprises along the way, including new songs by Tim Rice and Andrew Lloyd Webber.
Click your heels together and join Scarecrow, Tin Man, Lion, Dorothy and her little dog Toto, as they journey through the magical land of Oz to meet the Wizard and obtain their hearts' desires. Watch out for the Wicked Witch of the West and her winged monkeys as you rediscover the real story of Oz in this fantastic musical treat for the whole family.
Applications for auditions are now open and close on 11 June – see details at the website

wizardofozthemusical.com/auditions
#WizardofOzAU