Calling All Choreographers
Stage 2 of the MadeBy Project Closes July 27
MadeBy is a world-first composition and choreographic initiative developed by the Royal Academy of Dance (RAD) Australia and music licensing body OneMusic Australia.
At a time when the arts are under unprecedented pressure to survive and flourish, MadeBy celebrates the innovation of original works and highlights the business of music and dance, their artistic currency and their interconnectivity. It provides a $15,000 prize pool to Australian music composers and choreographers and the valuable opportunity to create a brand new collaborative work.
Stage 1 was completed in April and the winning piece of music was selected from a pool of over 300 entries! Blue Mountains resident Emma Greenhill's piece entitled 'Regrowth' is a stunning meditation on the devastation of the 2019-20 bushfires and nature's resilience.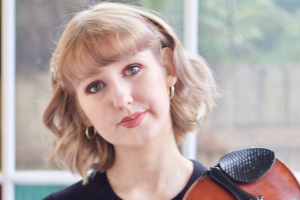 One of Sydney's emerging composers, Emma Greenhill has performed her own compositions twice at the Sydney Opera House and had her works performed by a number of Sydney-based chamber groups both in Australia and internationally. In 2017 she completed a Bachelor of Music (composition) at the Sydney Conservatorium and won the Watermark composition prize, offered by the Kendall National Competition. Sydney Conservatorium. Emma has taught composition from primary level – HSC, both privately and at Barker College. A composer, violinist, arranger and educator, Emma is passionate about expanding the Australian musical landscape with more idiomatic and accessible pieces.
"I'm really looking forward to seeing my piece be interpreted by another artist through a different art form. It will also be very exciting to see my music literally come to life through the physical act of dance, something I have always been very captivated by since childhood.

"The opportunity to then collaborate with the chosen choreographer and give them the opportunity to tell a story of their own through my music, will be an absolute privilege I am thrilled to undertake," said Emma.
Now in Stage 2, the RAD is calling on budding choreographers aged 15 years+ to create an original dance work in response to Emma's music.
In addition to a cash prize, the winning choreographer will be mentored by The Australian Ballet's Resident Choreographer Alice Topp through a collaborative artistic process with the winning composer to create a new joint work over a 12 month period what will premiere in 2022.
Entries for the Choreographic Competition
Entries for the Choreographic Competition open on Monday 17 May 2021 at 9am and close on Tuesday 27 July 2021 at 5pm.
Eligibility Criteria:
You must be an active member of the Royal Academy of Dance and resident in Australia. The competition is open to all membership categories.
You must be 15 years of age or older at the time of the closing date and of non-professional choreographer status – i.e. are not engaged and paid to choreograph for individuals, dance companies and groups or competitions/eisteddfods (other than for groups/students in your own studio/school). If you are under 18 years of age you will require parent or guardian consent to participate.
You do not have to perform the choreography yourself but where a separate performer/s is engaged you must have their consent to film and enter them into this competition. If the performer is under 18 years of age you will require parent or guardian consent for the performer to participate.
Important information for entries
Before completing your entry please download and read the following:
Judging the choreographic competition are:
Chair: Nichola Hall, RAD Australia
David McAllister AM – RAD Vice President and former Artistic Director of The Australian Ballet
Alice Topp – choreographer and dancer
Gerard Charles – RAD Artistic Director
Cat Hope – composer and performer and mentor
The winning composer Emma Greenhill
To download the music
To download Regrowth by Emma Greenhill, the official MadeBy winning composition please login to the Members' Area here and see the RAD Australia Events Resources section at the bottom of the page. Please note this music is only available to MadeBy entrants and should not be used for any other purposes for the duration of the competition (until 31 August 2021). Should you wish to use this music beyond this period please contact OneMusic Australia to discuss your licensing options.
For more information on entering the choreographic competition of MadeBy visit: au.royalacademyofdance.org/madeby/