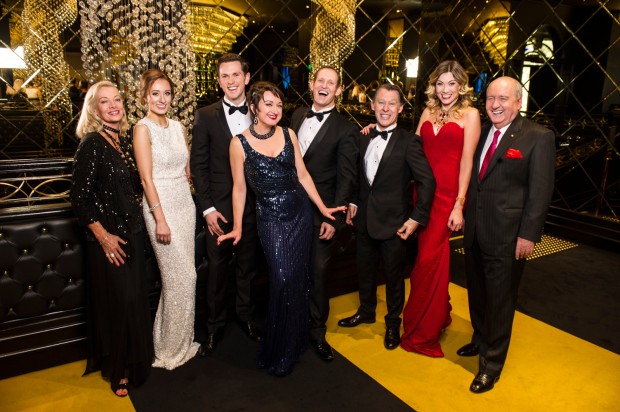 FREE TICKET PROMO!
A new production of Cole Porter's smash-hit musical comedy Anything Goes will tour Australia in 2015. Winner of three Tony Awards, including Best Musical Revival and Choreography during its most recent Broadway revival, Anything Goes is a stunning nautical favourite. Created by the Helpmann Award winning team of director Dean Bryant and choreographer Andrew Hallsworth, this brand new Australian production will dock in Melbourne in May, Brisbane in July and Sydney in September 2015.
Leading the all-star cast is Caroline O'Connor as evangelist turned nightclub singer Reno Sweeney. Playing Lord Evelyn Oakleigh, the wealthy English fiancé of Hope, will be audience favourite Todd McKenney. Wayne Scott Kermond plays Moonface Martin, a second-rate gangster who is 'Public Enemy Number 13'. Billy Crocker, the young Wall Street broker in love with Hope is played by Alex Rathgeber, and Claire Lyon is Hope Harcourt, an American debutante and the object of Billy's affection. Carmen Duncan is Evangeline Harcourt, Hope's haughty and overbearing mother, while Debora Krizak plays Erma, Moonface's girlfriend. The Captain of the S.S. American will be played by radio announcer Alan Jones.


Anything Goes has been hailed by The New York Times as "musical-comedy joy" and USA Today called it "glorious and exuberant!"
"Anything Goes is a shining example of classic musical theatre, complete with amazing tap numbers, hilarious jokes, unlikely happy endings and of course, wonderful songs," said John Frost and Lyndon Terracini. "After the overwhelming success of Rodgers and Hammerstein's South Pacific and The King and I, a revival of Anything Goes featuring the dazzling music of Cole Porter seemed the obvious choice. Since its Broadway premiere, it has become one of the best loved and most revived musicals of all time.
"We're thrilled that Caroline O'Connor is returning to play Reno Sweeney after her huge success in the US, UK and France – Caroline has become a genuine Broadway star! It's wonderful to have Todd McKenney back working with Opera Australia after his success in Orpheus In the Underworld, and to welcome Australian musical theatre royalty Wayne Scott Kermond. Alex Rathgeber and Claire Lyon gained star status around the world performing in Phantom of the Opera, and Debora Krizac has wowed audiences recently in Sweet Charity and A Chorus Line. It is terrific to invite Carmen Duncan to play her first musical theatre role, and to welcome Alan Jones aboard the S.S. American as its captain.


"To head the creative team we have chosen the Helpmann Award-winning team of director Dean Bryant and choreographer Andrew Hallsworth. Dean and Andrew have been doing amazing work on musicals worldwide, and are one of the most exciting creative teams in Australia today."
For decades, Anything Goes has captivated millions with its delightful story of madcap antics aboard the S.S. American. When the ocean liner embarks from New York to London, etiquette and convention get tossed out the portholes as two unlikely pairs set off on the course to find true love … proving that sometimes destiny needs a little help from a crew of singing sailors, an exotic disguise and some good old-fashioned blackmail.
This dazzling musical celebration, described by Ben Brantley of The New York Times as "a deluxe candy box of Cole Porter's best songs," features a hilarious tale of topsy-turvy relationships, mistaken identities and foiled plots, peppered with some of musical theatre's most memorable standards including You're The Top, De-Lovely, I Get A Kick Out Of You and of course the title song, Anything Goes.
This is a first-class musical extravaganza, a ship-shape production that will have you 'all at sea' if you miss out!
SEASON DETAILS
Princess Theatre, Melbourne
Season:                                From 31 May, 2015
Performance Times:        Wed–Sat 7.30pm, Matinees Tues & Wed 1pm, Sat 2pm & Sun 3pm
Price:                                    From $79.90*
Bookings:                           Ticketmaster.com.au or phone 1300 111 011
Groups of 12 or more call 1300 889 278
Lyric Theatre, QPAC, Brisbane
Season:                               From 28 July, 2015
Performance Times:       Wed–Sat 8.00pm, Matinees Tues, Wed & Sat 1.30pm & Sun 3pm
Price:                                   From $79.90*
Bookings:                           qpac.com.au or phone 136 246
Groups of 12 or more 07 3840 7466
Joan Sutherland Theatre, Sydney Opera House
Season:                               From 8 September, 2015
Performance Times:       Wed–Sat 7.30pm, Matinees Tues, Wed & Sat 1pm, Sun 3pm
Price:                                   From $79.90*
Bookings:                          sydneyoperahouse.com or 9250 7777
Groups of 12 or more call 02 8240 2290