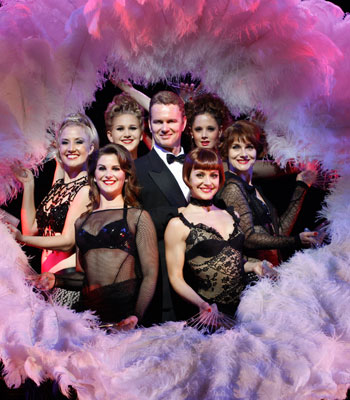 DanceLife went along to Foxtel last night to watch the filming of 'An Audience With The Cast of Wicked'. It was a fabulous night and boy was I happy that the seats were padded unlike when you go to watch SYTYCD. If you have never been to a filming of a television show it's quite interesting to see how everything is pieced together as on television it looks seamless and flows so well but when you're in the studio there are retakes and a huge amount of fake laughing. If your hands aren't sore by the end of a filming you're doing something wrong. From pre recording a natural clap to a slight giggle that gets loader and turns into a thunderous applause. It's all very constructed.
The show finally got underway and the handsome Craig McLachlan who plays Billy Flynn took the stage singing 'All I Care About'. Craig hosted the night and was simply charming and surprisingly funny. It was great to see him back in action after being absent from our shores for a few years. The format of the show is that "celebrities" are placed in the audience to ask questions to the cast members. Jason Gilkison, Amy and Charlie (SYTYCD) were in the audience and asked a few questions about the dancing in the show.
Sharon Millerchip who plays Roxie Hart sang Roxie but mentioned she felt a little naked without her dancing boys surrounding her. She did a dynamite job. I remember seeing her in Rocky Horror and thought she was just awesome so I'm looking forward to seeing her in full swing on Sunday night. Caroline O'Connor and Sharon sang My Own Best Friend which sounded great and because of a few technical difficulties we got to hear it twice.
Gina Riley who plays Mama Morton didn't sing but was very funny throughout the show. I'm sure she doesn't do it on purpose but you're just drawn to her and she was continually pulling the focus due to her charismatic personality. Queen Latifah was brilliant playing this character in the film so Gina has some big shoes to fill. From people that saw the show in Brisbane I've heard that she doesn't disappoint.
The show ended with Carline O'Connor singing the most well known song from the show 'All That Jazz'. Again another great performance but being in a small television studio with no dancers or atmosphere must be difficult for any performer.
An Audience With The Cast of Chicago will air in June on Foxtel. We will post the details when we have them. In the meantime get out there and support Australian Musical Theatre. Opening night for Chicago is this Sunday in Sydney. Check out www.chicagothemusical.com.au for more details.