Stuart Oken Roy Furman Michael Leavitt Five Cent Productions and Rodney Rigby
by special arrangement with Elephant Eye Theatrical present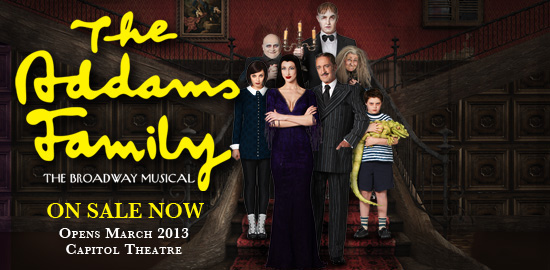 Broadway's smash hit musical comedy The Addams Family comes to spooky and spectacular life premiering on 23 March 2013 at Sydney's Capitol Theatre.
Today, Producer Rodney Rigby announced the Ensemble who will make up the deliriously delightful cast of The Addams Family. Joining all the favourite characters John Waters (Gomez), Chloe Dallimore (Morticia), Russell Dykstra (Uncle Fester), Teagan Wouters (Wednesday Addams), Ben Hudson (Lurch), Meredith O'Reilly (Grandma), Tony Harvey (Mal Beineke), Katrina Retallick (Alice Beineke), Tim Maddren (Lucas Beineke) and the five Pugsley boys will be Jakob Ambrose, Andrew Broadbent, Emma Clark, Cristina D'Agostino, Matt Heyward, Kelly Hoskin, Zoë Komazec, Peter Lowrey, Jordan Pollard, Justine Puy, Warwick Reid, Samantha Riley, Lisa Sontag, Shane Stepien
and Robert Tripolino.
The Addams Family features an original story. It's every parent's nightmare. Your little girl has suddenly become a young woman, and what's worse, has fallen deliriously in love with a sweet, smart young man from a respectable family. Yes, Wednesday Addams, the ultimate princess of darkness, has a "normal" boyfriend, and for parents Gomez and Morticia, it's a shocking development that turns the Addams house upside down when they are forced to host a dinner for the young man and his parents.
The Addams Family features a book by Jersey Boys co-writers Marshall Brickman and Rick Elice, and music and lyrics by Andrew Lippa. The production is directed in Australia by Broadway legend Jerry Zaks and choreographed by Sergio Trujillo.
Previews: from Sunday 10 March 2013

Opening Night: Saturday 23 March 2013

Performance Times: Evenings: Sunday 6pm, Wednesday 7pm Thursday, Friday, Saturday 8pm
Matinees: Wednesday 1pm, Saturday 2pm, Sunday 1pm

Bookings: ticketmaster.com.au or 1300 723 038 – Groups Save! 02 8240 2290

Premium Tickets & Packages: showbiz.com.au or 1300 474 697