Baz Luhrmann sccops the AACTA's
One of Australia's favourite and most innovative Musical Theatre and Film Directors and Producers, Baz Luhrmann, picked up 13 AACTA awards across the ceremonies conducted last night at Sydney's 'Star' and earlier in the week on Tuesday.
Baz Lurhmann's glittering 3D spectacular scooped up six of the seven major awards announced at the star-studded Star Event Centre ceremony in Sydney – including best film, best director, best actor (Leonardo DiCaprio), best supporting actor (Joel Edgerton) and best supporting actress (Elizabeth Debicki) – taking its total haul to 13.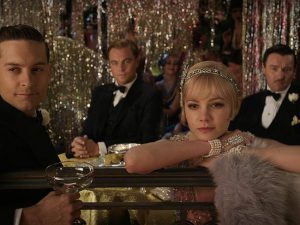 On Tuesday, at the same venue, Gatsby also made a clean sweep of the craft awards, where it picked up seven statuettes in categories such as best cinematography, best production design, best costume design and best visual effects.
Baz and his gorgeous wife Catherine Martin were the toast of the evening.
A special tribute to Baz's work to date was a highlight of the evening's events featuring many well known and up-and-coming young Sydney dancers under the choreographic guidance of the phenomenal Matt Lee.



"It was an honour to pay homage to such an incredible Australian artist, Baz Luhrman, the dancers did an amazing job bringing it to life" Matt Lee
Baz was touched and by the rousing tribute which included: "Love Is In The Air' from Strictly Ballroom; Delta Goodrem singing 'Kissing You' from 'Romeo & Juliet'; Prinnie Stevens and company belting out 'Lady Marmalade' from 'Moulin Rouge'; and Nat Bassingthwaite hitting it with a full ensemble of dancers in 'Little Party' from 'The Great Gatsby'.


Kate Wormald featured as the lead female in 'Roxanne' (also from Moulin Rouge) which was sung by the enigmatic Michael Cormick. Kate says, "I had such a great time performing Roxanne with the gorgeous boys! It was a special performance with Baz front row".

Baz knew about the tribute but hadn't seen anything until the actual performance. He said he absolutely loved it afterwards to the cast!
A number of young dancers from some of Sydney's top Performing Arts Studios were included in the prestigious event. This is what Kate Wormald had to say about them: "The 'up & coming dancers' were really great! They were very professional, passionate & dedicated".


One of Sydney's most sought after young male dancers, Mitchell Woodcock was thrilled to be performing for this tribute: "Paying homage to one of Australia's leading directors was a career highlight and a memorable moment having both Baz Luhrmann himself and the rest of the country watching on".
Well known siblings Nancy, David and Hilton Denis carved up the stage, along with Briden Starr Aspinall and a number of other amazing dancers who were featured in Gatsby. Cat Santos said, "It's moments like tonight that make me so grateful for everything we work, train and sweat for. Because although its our arms and legs doing the work, it's our hearts that are exploding on that stage. And not many people are lucky enough to experience that rush like we do."


Ain't that the truth! Well said Cat!
Baz is currently well into rehearsal on the stage musical version of his most famous 'Strictly Ballroom' which is much anticipated and set to become yet another Luhrmann masterpiece.
For all details regarding Strictly Ballroom, please see our related articles here and here.