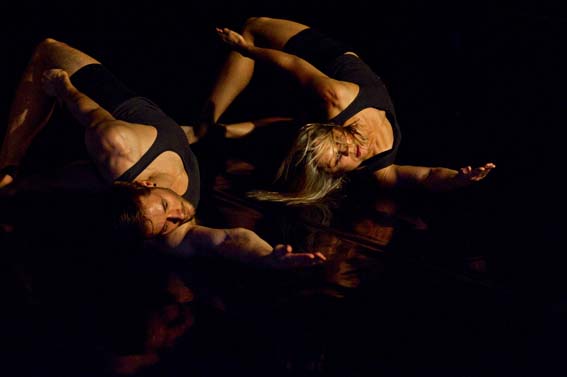 Western Sydney Dance Action and Riverside Theatres present Dance Bites August 2011 Season: 3 weeks of new Australian contemporary dance works!
First up is SIDE TO ONE – a duet choreographed and performed by virtuoso dancers Lisa Griffiths & Craig Bary with animation and live sound by Adam Synnott.
Exploring the concepts of soul mates and intuition, Side to One follows two individuals destined to connect. Attracted like magnets, they are never static but constantly evolving in a heightened state of connected energy. At its simplest, the work traces the trajectory of a relationship from its first fragile intensity to inseparable unity then on to dangerous territory. But these two are not necessarily lovers, and subtle ambiguities open up other possibilities.
Theatrical, accessible and engaging, the choreography is highly technical with intimate moments enhanced by live interactive visuals and sound. Extremely close duets are both a metaphor in this work and something of a signature in Lisa Griffiths and Craig Bary's movement language.
Adam Synnott's animations react in realtime to the dancers movements on stage. With a live sound score using guitar, keyboards and sequencers, the interaction of visuals and sound with the dance injects an element of the unknown, and each performance is subtly different.
Lisa Griffiths and Craig Bary have a rare partnership formed through years of dancing together, as well as a firm friendship. They have performed with companies such as Leigh Warren & Dancers, Australian Dance Theatre, and Tasdance; and with independent choreographers Tanja Liedtke and Sue Healey. This is an opportunity to see these two highly respected dancers perform in an original choreographed work of their own making – and WSDA/Riverside's August Dance Bites is its exclusive Sydney season!
SIDE TO ONE
Wednesday 10 to Saturday 13 August 2011, Lennox Theatre, Riverside Theatres, 8pm
Running time 60 minutes no interval – Tickets: $28 and Concession $25
Dance Bites Season Discount: Book all 3 shows save $5 per ticket.
Bookings online riversideparramatta.com.au or call (02) 8839 3399
Other features of the August Dance Bites include Mountains Never Meet (Wed 17 to Sat 20 Aug) – Martin del Amo's extraordinary exploration of the point where sport and dance meet – involving a cast of nine untrained male performers from Western Sydney, and co-created with professional soccer player Ahilan Ratamohan; and Shorter+Sweeter Dance (Wed 31 Aug &Thu 1 Sep) – the 'best of' showcase from the iconic mini dance festival. Visit www.wsda.org.au.