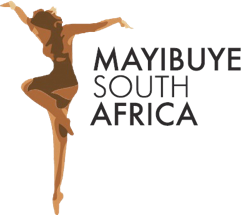 Kumari Middleton, a 25 year old Melbournian, was well on her way to an international dance career when her dreams were cut short when she contracted Legionnaire's Disease and aligned illnesses including chronic fatigue in 2007 whilst performing in New York and was forced to return to Melbourne.
Kumari found herself bed ridden for months and unable to walk to the end of her street whilst she fought her life threatening illness. Unable to dance anymore, Kumari drew inspiration from her years of volunteering with those less fortunate. She began to form the idea of an aid organisation that brought together her passions of dance and community development.
This idea became Mayibuye (may-ee-bu-yeah), an International aid and development organisation that combines performing arts and life skills to empower disenfranchised youth in South Africa and Australia. Mayibuye has set up a Dance Troupe in South Africa and will be starting a new program in Morwell, Gippsland shortly. Mayibuye also runs camps, cultural tours, courses and micro-financing initiatives. This December, they are running their second International tour to South Africa, allowing passionate young Australians to use their talents and skills to make a difference.
Mayibuye literally translates to "let it return" in Zulu and has very significant cultural meaning in South Africa as Mayibuye was the name of the song that the people sang when Nelson Mandela was released from prison.
Still impacted by symptoms of her illness, Kumari and two Aussie friends, as well as a good friend from South Africa, founded Mayibuye together in 2009. The non-profit organisation has grown significantly in a short space of time with many new volunteers coming on board and numerous fundraising events being held.
Kumari says that establishing projects in South Africa was vital as "the passion for dance burns so brightly amongst African people, it is a great way to engage disenfranchised young people and get them into a safe and nurturing learning environment away from negative influence such as crime and drugs."
Kumari's health is improved but unfortunately she is unable to dance at the level she once could. She is overjoyed and motivated to be able to work for Mayibuye which allows her to still use her passion for dance to work with young people and community development.
The role of dance in Mayibuye's programs is vitally important as dance is a global language that can allow young people to connect, freely express themselves and open up about their experiences, hopes and dreams.
Across many cultures, dance has a massive significance that can then be used as way to reach out to disadvantaged youth and feel safe taking part in Mayibuye's projects in Australia and South Africa where they will learn life skills about relationships, health, careers and further education opportunities. "Mayibuye also aims to instil leadership qualities in those who participate in our projects so that each individual can go on to inspire positive change in their local communities" says Kumari.
This December Kumari will be leading a Mayibuye volunteer tour to visit Mayibuye's projects in South Africa as well as participate in activities assisting Mayibuye's partner organisations, such as working at orphanages and schools and participating in home stays. The tour gives 6 lucky young Australians a chance to see the difficulties that face South Africa first hand.
Kumari hopes the tour will inspire the Australian volunteers and is looking forward being able to visit the youth in Hammardsale again and share in their joy of dancing.
If you would like to donate to Kumari's cause or support her personal tour fundraising efforts please visit www.mayibuye.org.au.