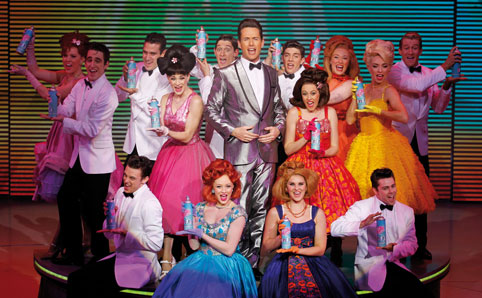 Last night was Sydney's turn to be taken back to the 60's with the premiere Sydney performance of Hairspray the musical which had delighted Melbourne audiences since last year.
Hairspray is a musical with music by Marc Shaiman, lyrics by Scott Wittman and Shaiman and a book by Mark O'Donnell and Thomas Meehan, based on the 1988 John Waters film Hairspray. The songs include 1960s-style dance music and "downtown" rhythm and blues. In 1962 Baltimore, Maryland, plump teenager Tracy Turnblad's dream is to dance on The Corny Collins Show, a local TV dance program based on the real-life Buddy Deane Show. When Tracy wins a role on the show, she becomes a celebrity overnight. She then launches a campaign to integrate the show. Hairspray is a social commentary on the injustices of parts of American society in the 1960s.
Directed by David Atkins and Choreographed by Jason Coleman this production of Hairspray stays true to the original story yet brings the 60's to life with amazing LCD screens that have completely replaced the traditional set. From the opening note and for the next three hours the screens explode with vibrant colours and clever animations that add a whole new dimension to the show. While it does take some time to get use to the screens and to not be distracted by them they surely assist in keeping the show energetic.
Hairspray has been seen on Broadway, the West End and Las Vegas and has always had the tough time finding the leading lady for the show, Tracy Turnblad. Jaz Flowers plays the leading lady who was plucked from the cast of Fame and boy does she give a new meaning to a true triple threat performer. This young lady of 23 can sing, dance and act like a seasoned professional that has been on Broadway for years. Tracy is in great company with Esther Hannaford who plays her best pal Penny and Renee Armstrong playing mean girl Amber Von Tussle. Both girls have perfect comedic timing and play their characters to a tea. It was refreshing and exciting to see such a strong and uber talented leading female cast.
Heart throb Link Larkin is played by a familiar face Jack Chambers. You may remember Jack as he won the first season of So You Think You Can Dance Australia in 2008. After the show Jack ventured overseas and was tempted back home to join the cast. I'm certainly glad he took the opportunity as his effortless yet superb characterisation of Link is remarkable and so easy to watch. I must admit that when Jack is on stage it's hard to take your eyes off him as he moves seamlessly around stage with his natural and charismatic flare. Not known as a singer jack delivers solid vocals throughout the show with help from his cast members.
Cabaret Star Trevor Ashley plays the lovable and entertaining mother of Tracy, Edna Turnblad. Trevor is the youngest performer to ever play the character of Edna and stacks up completely to the Edna's before him. There is no denying that Trevor is a star in his own right and plays over the top extremely well. What I enjoyed thoroughly last night was Trevor's chemistry with Grant Piro who plays Edna's husband Wilbur. The pair has some beautiful spontaneous moments together during their duet 'Timeless To Me' which ended with a huge round of applause from the audience.
There is no denying that the ensemble of this show is made up with some of the country's finest performers. Familiar faces from So You Think You Can Dance grace the stage as do young performers who are just out of full time with bright futures. With school holidays quickly approaching I'm placing my bet that Hairspray will do extremely well during their Sydney season. If you're looking for a feel good, fast moving and electrifying show I suggest you grab tickets to Hairspray!
For more details on the show and for ticket information go to www.hairspraythemusical.com.au.