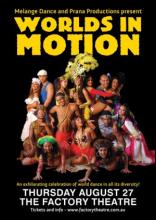 1. Firstly tell us a little bit about Worlds In Motion?
Worlds In Motion is the newest production from our dance company, Melange Dance. The show takes the form of an exciting trip across the globe – delivered through a powerful and vibrant fusion of dance, music and comedy.
2. Where did the idea come from?
Being a world dance company, we have always been fascinated by the interplay between various folkloric dances from across the globe. How mythology and the roots of life play such an important role in the shaping of a culture and their expressions through dance. We are very passionate about dance and its role in life as both a history book, and as a truly joyful medium of expression and continuous human development. We were inspired to produce a show that brought the world to Australia. A show where we could share this energy and give audiences a taste of the joy that we experience through dancing and learning about the many fascinating cultures of the world.

3. There are 20 performers in the show from dancers to musicians. How did you find all of these people? Did you hold auditions for the show?
The majority of dancers in this show have been dancing with the company for a number of years. We do audition for the company. We also have a few fabulous guest dancers and performers whom we have worked with previously. The cast of Worlds In Motion is really one big multicultural family! This is a very important thing to all of us.

4. For anyone out there that is looking to produce their own show what advice would you give them?
It is crucial to have a strong team of experienced, diversified, reliable and committed people behind you. Eat well. Know there will be successes and challenges (and sleep deprivation). But above all else, love what you do.
5. Tell us about your favourite part of the show? You don't need to give it all away!
There are so many. We will say this…we do like to dance with our audiences.
6. Looking to the future what are you plans for Worlds In Motion?
We love this show and we love to perform it. We're looking for the opportunity to entertain other audiences around Australia. So hopefully, we'll be coming to your readers' cities soon.