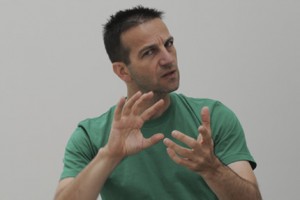 "IT'S (OBARZANEK'S) BOLDNESS AND CONSTANT PUSHING OF THE ENVELOPE THAT SECURED CHUNKY MOVE A REPUTATION OF AUSTRALIA'S MOST INNOVATIVE DANCE OUTFIT." HQ MAGAZINE
Gideon Obarzanek is known for his distinct and unpredictable genre-defying dance productions.
After twenty years making works for individuals, groups and his own company Chunky Move, Obarzanek has created Faker, a disarmingly personal solo performance of his own, exposing the expectations and disappointments, creative aspirations and personal doubts of dance and theatre making.
Faker arose out of a two week workshop Obarzanek undertook with a young dancer. Despite best intentions, not everything went to plan.
Success, experience and earned respect count for little when compared to the doubts that haunt an empty studio. In Faker we find Obarzanek at his computer reading an email he received from the young dancer letting him know, in the most brutally honest language, her thoughts on the time spent working with him.
Frank and darkly humorous, Faker offers a rare insight into the mind of one of Australia's most acclaimed creators.
"OBARZANEK'S DEPTH AND BREADTH OF INQUIRY IS STIMULATING"THE AUSTRALIAN
More info HERE. Click here for a link to the video about the piece.
WIN TICKETS
DanceLife is giving away a double pass to the show on Saturday 25th September, 7pm at The Studio, Sydney Opera House.
To be in the running email your name, suburb and mobile number to win@dancelife.com.au
ENTRIES CLOSE THURSDAY 23rd at 12pm.