SYDNEY DANCE COMPANY WILL HOST SOME AWESOME WORKSHOPS IN THE SPRING SCHOOL HOLIDAY BREAK.
We have 1 x Ballet Workshop and 1 x 2-Day Dance Workshop to GIVEAWAY to one of our lucky readers! See how at the end of this article!

Take a look at some of the amazing teachers on faculty at SDC for these workshops …
GINA BRESCIANINI – Lyrical Ballet
Gina was born in Sydney and trained at the McDonald College and the Australian Ballet School. She joined the Australian Ballet in 2001, was promoted to Choryphee in 2005 and to Soloist in 2007. During her ten years with the Australian Ballet, Gina has performed all the major classic ballets and many One Act and Contemporary works by Australia's leading and international choreographers such as Murphy, Page, Baynes, McGregor, Ratmansky, Wright, Fonte and Wheeldon. Gina has also appeared as a Principal Guest artist with the English National ballet in 2009 in their London and Barcelona seasons. Gina also guested in the Fall for Dance season in New York in 2009. Gina has performed on many international stages in Paris, London, Barcelona, New York, Cardiff, Beijing, Shanghai, Tokyo and Nagoya. Gina was awarded the Telstra Young Ballet Dancer of the year in 2006.
JOSEF BROWN – Contemporary
Josef trained at the Australian Ballet School in Melbourne and the McDonald College in Sydney. Josef was a member of The Australian Ballet from 1991 to 1996 and was promoted to soloist during this time. From 1997 to 2004 Josef was a leading dancer with Sydney Dance Company and participated in international tours and starred in lead roles including the Prince in "Beauty and the Beast". Josef played the lead acting/dancing role of Johnny Castle in the stage musical "Dirty Dancing" and he toured with the show around Australia and NZ. The show was a spectacular success and Josef was asked to star in the London West End Production and also the Los Angeles production. Since returning to Australia, he has worked on numerous TV shows, including the role of Patrick on ABC's Dance Academy.
ILONA FABISZEWSKI – Hip Hop
Ilona Fabiszewski has extensive performance credits, including Top 20 dancer for 'SYTYCD' (Aust) Season 3 and lead feature dancer in Guy Sebastian's 'Like It Like That' music video. Ilona's choreography credits include Grammy Award Winner 'Duffy' for Channel 7 and a 'So You Think You Can Dance' guest appearance, ABC's 'Dance Academy', choreographer/ dancer for Jessica Mauboy, Vanilla Ice's performance at 'V Festival', Seany B's 'Happy Today' music video, in addition to movement coaching Australia's Next Top Models and Seany B, as well as Indian pop star Aiysha. Ilona trained not only in Australia, but also in the UK and USA where she learnt from the likes of Dave Scott, Wade Robson, Mia Michaels and Brian Friedman. Ilona's versatile style reflects her background in hip-hop, popping, locking, breakdance, jazz and Indian classical.
VERONICA BEATTIE – Theatre Jazz
Veronica is a professional Musical Theatre performer. Her versatility is shown through her many credits in Theatre and corporate work including performing alongside Lisa McCune at the Capitol Theatre in the production of "Guys and Dolls" as a principal dancer, performing in Graeme Murphy's 'Tivoli' with the Sydney Dance Company, "Grease- the Arena Spectacular" (Australia & NZ tour) as a dancer and Dance Captain and the musical "The Wizard of Oz". Veronica appeared in Baz Lurhmann's film "Moulin Rouge" as the Tattooed Can Can dancer". She has performed on P&O Cruise ship "Pacific Sky", in the show "Fever" with Rhonda Burchmore. She also had the pleasure of working alongside Hugh Jackman in "The Boy from Oz".
DON NAPALAN – Hip Hop
Don is a member of the Hip Hop crew, SKB (Street Kulture Breakers), who performed on the semifinals of Australia's Got Talent in 2011. Don's dance skills and endearing character, also took him to the top 14 in So You Think You Can Dance, the furthest any Bboy has gone in the show. Recent SKB crew achievements include winning the Australian Bboy Championships (2007) and placing 5th in the World Hip Hop International Bboy battles (2009) that we're held at Las Vegas. Don has made appearances and choreographed for the Urban Music Awards, Big Day Out, DMX, A1GP with Ricki Lee Coulter, Disney Channel, Nike, Red Bull and Sony Playstation 3. Don has been Bboying since March 2000. His breathtaking musicality mixed with his blazing love and passion for sharing his gifts with others has established himself as one of the most recognized and respected Bboys in Australia today.
SHELLEY MOORE – Contemporary
Shelley has completed two Bachelor degrees, both from UNSW – in 2004 Bachelor of Arts (Theatre) and 2007 with a Bachelor of Arts (Dance)/ Bachelor of Education. Since graduating, Shelley has been a company dancer with Pulse8 Manly Dance Theatre and featured in the ABC documentary "Beats per Minute". Shelley has featured in television commercials for KFC and Samsung. In 2009 Shelley performed at the Australian Dance Festival and the ARIA Awards Night. In 2009, Shelley was invited to Kuala Lumpur, Malaysia, to perform in the TARI 09 International Dance Festival. Currently, Shelley continues to enjoy a wide variety of choreographic, performance and teaching projects such as a choreographer for the Australian Girls Choir National Tour, teaching contemporary at the RAD International Summer School in Tokyo and as a member of the Australian Aerobics Team, competing in the Netherlands.
BOOK ONLINE HERE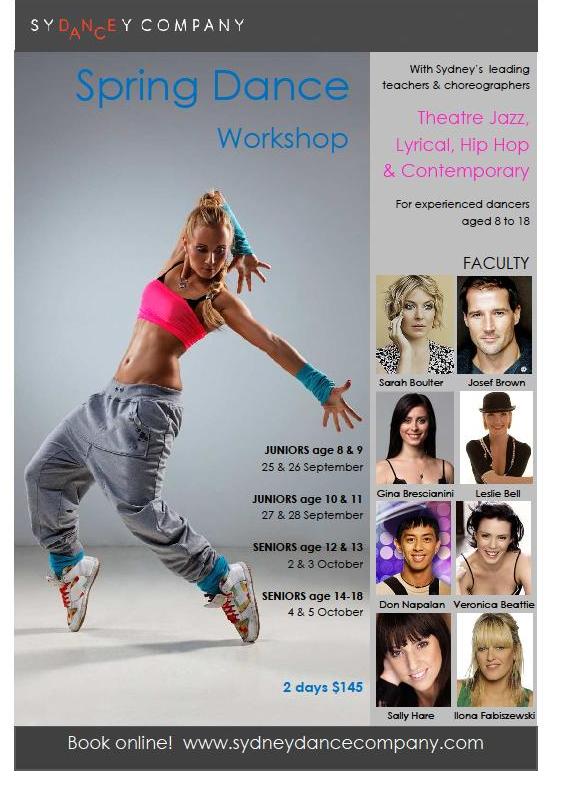 Two of our lucky readers will WIN A FREE WORKSHOP with Sydney Dance Company.
EMAIL US AT win@dancelife.com.au with your contact details for either the Ballet Workshop or
Dance Workshop – Good Luck Everyone!