Dance Anatomy & Kinesiology, 2nd ed, by Karen Clippinger
WIN a copy OR get 30% discount!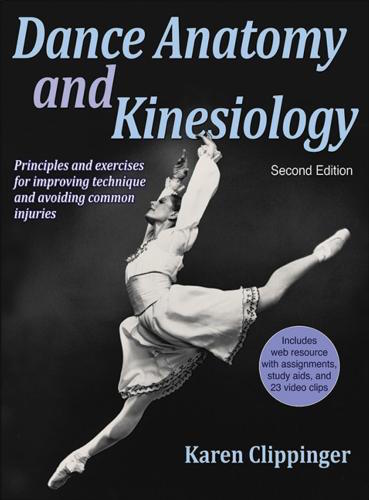 DanceLife has a copy of this brilliant resource book for a keen dance student or teacher to win. Dance Anatomy & Kinesiology, published by Human Kinetics, covers all the physical disciplines and anatomy of dancing and also looks at avoiding and managing injuries.
The first edition of Dance Anatomy and Kinesiology was hailed as the definitive text on the topic. While much is new in this second edition, Clippinger retains the scientific perspective while making the content easier to cover in the classroom. The text includes strength and flexibility exercises to improve body alignment and dance technique, examining various regions of the body with special consideration for dance. Extensive anatomical illustrations and technique photos provide dancers with a better understanding of overcoming technique challenges to prevent injuries.
A recent review by Lesley Graham, Clippinger Books, says:
"The first few chapters have everything you would expect relating to the skeletal and muscular systems and related movement.  Clearly labelled and drawn diagrams and tables of common terms with photographed models, describe the major architecture, classification and terminology from both an anatomical and dance perspective.  Subsequent chapters follow a similar logical pattern of presentation, working through each major zone of the body.  Reference to dance vocabulary and photos of demonstrating dancers in class clothing and in performance, places the reader clearly in a contemporary /balletic aesthetic."
"This is a dense textbook, but with so much useful information you could literally start at one end and cover everything you need to know to give you confidence in your theoretical knowledge of your dancing body or you could dip into areas as need for explanation and further information arises."
"Dance Kinesiology Second Edition is an important text which should be on every dance teacher's book shelf."
DanceLife and Human Kinetics are pleased to offer readers 30% this book. Simple head to www.humankinetics.com/rewards and join as a rewards member for free then enter the code DANCELIFE at the checkout.
WIN!


To win this amazing resource book – 'Dance Anatomy and Kinesiology' –  please email win@dancelife.com.au with your name, phone number and postal address with the subject title of 'Dance Book'. Entries close July 22.