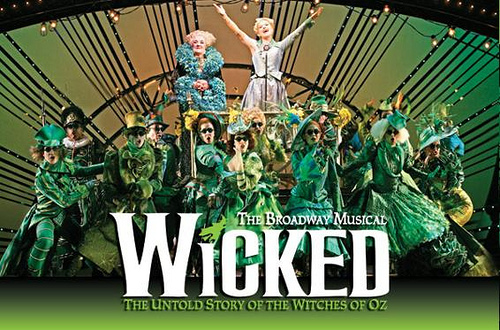 More than twelve months after its spectacular Sydney Premiere, the curtain will come down on WICKED at the Capitol Theatre for the last time on September 12, 2010.
"After more than two astonishing years in Australia, 866 glorious performances seen by well over a million people, it will be time for WICKED to close," said John Frost, Australian Co-Producer of WICKED. "Sydneysiders have only 12 more weeks to see one of the most successful shows in theatre history at the most perfect theatre it could play in, the glorious Capitol Theatre."
"Right from the start this show has been an overwhelming hit. Audiences have been captivated by the soaring ballads, the spectacular sets, costumes and lighting, and been draw into the emotional richness of this beautiful story. We were hoping for a strong response in Sydney when we moved from Melbourne last year, and it has exceeded all expectations in the toughest theatre market in the country. Sydney took WICKED to its heart, and we've been thrilled by the response from Government, sponsors, theatregoers and the general public. WICKED has brought a whole new audience into the theatre for the first time; they have loved their experience and will come back for more.
"WICKED is unique, a phenomenon, the winner of 35 major awards including the Grammy® Award, three Tony® Awards and six Helpmann® Awards, a musical that enchants audiences around the world and right across the spectrum. We are so proud of our extraordinarily talented cast, many of whom have been with the show for the whole run. They are arguably the best WICKED cast in the world."
WICKED has had a record breaking run in Australia. The Australian production began at Melbourne's Regent Theatre in June, 2008 finishing up in August, 2009. It transferred to Sydney's Capitol Theatre on September 5, 2009. WICKED has smashed numerous records during its Australian run, including both Melbourne and Capitol Theatre box office records. On Tuesday 11 May 2010 the one millionth ticket to the Australian production of WICKED was purchased.
Currently in its 7th year on Broadway, WICKED's four North American and four international companies have cumulatively grossed nearly $1.8 billion and have been seen by nearly 23 million people worldwide.
WICKED is the untold story of the witches of Oz. Long before Dorothy drops in, two other girls meet in the land of Oz. One, born with emerald green skin, is smart, fiery and misunderstood. The other is beautiful, ambitious and very popular. WICKED tells the enchanting story of how these two unlikely friends grow to become the Wicked Witch of the West and Glinda the Good Witch.
WICKED, with (music and lyrics) by Stephen Schwartz (Godspell, Pippin, Academy Award-winner for Pocahontas and The Prince of Egypt) and book by Winnie Holzman (My So Called Life, Once And Again and thirtysomething), is produced by Marc Platt, Universal Pictures, The Araca Group, Jon B Platt and David Stone, with John Frost as Australian Co-Producer.