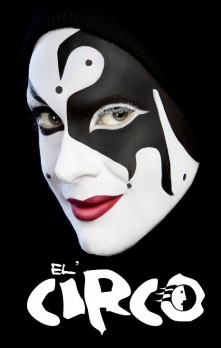 Home of the acclaimed El'Circo and the most exciting cabaret shows on Sydney's famed Oxford St, Slide is a classic cocktail mix of culinary artists, world-class mixologists, and globe-trotting sky-is-the-limit entertainers. This is what Slide has in store for November and beyond…
Celebrating 5 years of El' Circo entertainment and dining magic!

THE STROKE OF MIDNIGHT
Putting the raunch into Rachmaninoff
SATURDAY 10thTH NOVEMBER – MIDNIGHT
SATURDAY 24th NOVEMBER – MIDNIGHT
A brand new late night soiree and extravagant pageant of burlesque, hosted by Fidel Cathro (Cath Alcorn), and featuring performances by international burlesque star Chrys Columbine (whom Playboy calls "Britain's answer to Dita Von Teese"), Elektra, Duncan Brown and with choreography by Chris Horsey. Leave your inhibitions at the door.
$10 presale, $15 at the door
Doors open at 11.30pm
Naomi Price is ADELE
Fresh from 2012 Brisbane Cabaret Festival
WEDNESDAY 14th NOVEMBER
You're invited to spend an evening inside Adele: Grammy winner, and Big Mac connoisseur. Adele will roll in the deep down under, spilling intimate details about life on the road, love on the rocks, and the prick who took a sledge hammer to her heart.
Dinner and Show $70.00 Supper & Show $45 Show Only $25.00
(Dinner at 7:00pm Show at 8:30pm)
HOLLY FOLLIES
A naughty nativity
THURSDAY 22nd NOVEMBER
Step inside Santa's very own red-light district! Holly Follies is a truly unconventional festive fantasia where the glamorous ghosts of Christmas reveal a world of sensuality.
Ideal for both Christmas cynics and Yuletide yes-men.
Dinner and Show $70.00 Supper & Show $50 Show Only $30.00
(Dinner at 7:00pm Show at 8:30pm)

MONTHLY SNAPSHOT Click on show title for more info
THU 1 WOMEN SAY SOMETHING – SOLD OUT
FRI 2 LEMONS WITH A TWIST
TUE 6 Melbourne Cup Private Event
WED 7 THE SWEET N LOW DOWN
1920's Vaudeville directed by Stuart Maunder

THU 8 COURTNEY ACT is an Alien Of Extraordinary Ability

FRI 9 EL'CIRCO – SOLD OUT
followed by AUSSIE POLE MASTERS – Midnight Show
SAT 10 EL'CIRCO – SOLD OUT
followed by THE STROKE OF MIDNIGHT – Midnight Variety Show

MON 12 MONDAY NIGHT LIVE
Cabaret Open mic night
TUE 13 'DROWN' MOVIE FUNDRAISER
Hosted by Charlotte Dawson, and feat. Sarah McLeod (SuperJesus)
WED 14 RUMOUR HAS IT: 60 minutes inside ADELE
starring Naomi Price
THU 15 TOM SHARAH in IT'S RAINING ME
FRI 16 TOM SHARAH in IT'S RAINING ME SOLD OUT
SAT 17 EL'CIRCO – SOLD OUT
TUE 20 THE PEEL
Outré grassroots burlesque
WED 21 WAAPA SHOWCASE
Music theatre's newest recruits
THU 22 HOLY FOLLIES – A naughty nativity
Santa's very own red light district
SAT 24 EL'CIRCO – SOLD OUT
followed by THE STROKE OF MIDNIGHT – Midnight Variety Show
WED 28 BORDELLO BLUES
starring Nikki Nouveau
DECEMBER
MON 3 KIMBERLY DARK NYC
presented by Women Say Something
WED 5 THE DIVINE MISS BETTE – Christmas Party
starring Catherine Alcorn