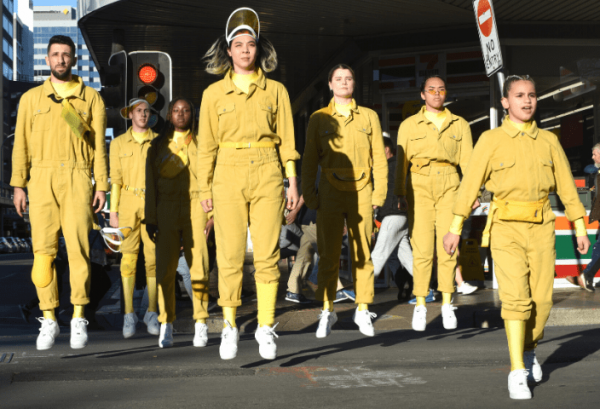 We Are Here Company Auditions
Saturday 15 August
FORM Dance Projects is seeking confident dancers from Western Sydney aged between 16-30 with previous dance training in any style of dance tp form a new youth dance company in Western Sydney.
The WE ARE HERE Company will hold artistry, performative range, and collaboration in its work, contributing and redefining the current look, approach, and style of Australian contemporary dance. Connection to Western Sydney includes participants who were born in Western Sydney, grew up in Western Sydney, currently reside in Western Sydney, attended school or tertiary institute in Western Sydney, have an artform practice connected to Western Sydney, are working in Western Sydney.
The WE ARE HERE Company will be a new, breakthrough contemporary dance company like no other. They are looking for open minded and confident performers with previous dance training in any style of dance and who exhibit performative and choreographic potential.
At its helm is Emma Saunders, FORM Dance Project's 'formidable' and award winning Associate Artist. Emma is hot off the heels from directing the highly successful ENCOUNTER season at Sydney Festival 2020 and will bring her wealth of dance experience, energy and generosity to the company.
Led by Emma, the Company offers an extensive range of opportunities to experience, develop and broaden your dance practice through the following exciting programs:
Ongoing Dance Workshops: In Emma's signature theatrical and distinct style that explores instinct, charge, weight, breath, gravity, emotional realities, spoken text, performative tasks, action, humour, composition, improvisation and the tools and skills you need to develop your own dance style and practice.
New Dance Work, Creative Development & Performance: In collaboration with Emma, you will develop a new short live dance theatre OR dance film work, plus a range of short digital pieces to be presented at Sharp Short Dance 2020.
ENCOUNTER Repertoire Re-examined: A week intensive where we re-examine ENCOUNTER (2020 Sydney Festival) repertoire in collaboration with original cast and perform excerpts as part of new sites and collaborations through Parramatta Laneways project (pending funding).
Starting Points: Opportunity to develop your own creative and choreographic voice under the guidance and mentorship of Emma Saunders with an informal showing.
WE ARE HERE will run throughout NSW school terms 3 and 4 as well as the October holidays. See below for dates.
The audition is open to all dancers, secondary school to tertiary and professional, aged 16 – 30.  Aboriginal and Torres Strait Islander, and Culturally and Linguistically Diverse dancers are encouraged to apply, with two Indigenous scholarships available.
A fee of $220 applies for registration and participation in the company workshops, masterclasses and training. The NSW Creative Kids voucher can be used, and payment plans are available.
Auditions and classes will adhere to CovidSafe best practice and NSW Government Public Health Covid-19 regulations and social distancing.
Click here to Register for Audition.
If you have any further questions please email: weareherecom20@gmail.com or phone 02 9806 5609
WE ARE HERE AUDITIONS
AUDITION DATE: Saturday 15 August 10AM-3.30PM (this will be divided into 1 hr blocks)
CALL BACK: Saturday 15 August, 4PM-5.30PM – compulsory attendance for all dancers selected
AUDITION LOCATION: Riverside studio, Riverside Theatres, Parramatta
WE ARE HERE Company Program Dates & Times
Term 3


10AM-4PM : Saturdays 5/9, 12/9, 19/9
October Holidays


10AM-4PM : Monday 28/9- Friday 2/10 (5 days)
Term 4


4.30PM-7.30PM: Tuesday rehearsals:13/10, 20/10, 27/10, 3/11, 10/11, 17/11, 24/11
1/12, 8/12, 15/12
10AM-4PM : Saturday rehearsals 31/10, 7/11, 21/11
Starting Points Showing
Tuesday December 16 2020 or 1st week of February 2021 (tbc)