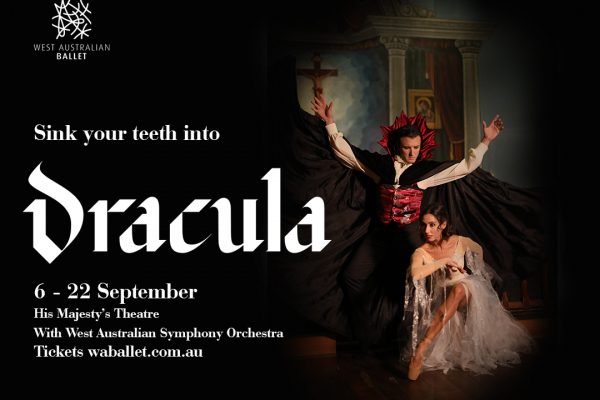 West Australian Ballet's dramatic Dracula premieres
Where True Love Never Dies
Experience Bram Stoker's gothic tale of forbidden passion as West Australian Ballet presents the World Premiere of the lustful Dracula alongside West Australian Symphony Orchestra at His Majesty's Theatre this September.
Follow Dracula, whose lonely soul is determined to reunite with his lost love, Mina – and in doing so begins a reign of terror and seduction, draining the life from those around her to get what he so desires. Will temptation end in tragedy or will his love for her cause him to make the greatest sacrifice of all?
When Artistic Director Aurélien Scannella was tasked with expanding West Australian Ballet's repertoire, Dracula was at the top of the wish list with only getting the right talent standing in his way for this highly anticipated World Premiere.
The first call Scannella made was to one of the most prolific Choreographers in Europe, Krzysztof Pastor. Scannella described the call as simple, "I said, I'd like to have a new Dracula created on WAB and I'd love to have you as the choreographer," states Scannella. "Without any questions, he just said yes."
With more than 50 ballet works to his name and ranked as one of the world's most highly awarded and exciting choreographers, Krzysztof Pastor is a major force in the ballet world.
Pastor held the prestigious position of Resident Choreographer at the Dutch National Ballet from 2003 to 2017 and is currently the Artistic Director of both the Polish National Ballet and Lithuanian National Opera and Ballet Theatre. Throughout his career as a Dancer, Choreographer and Artistic Director, Pastor has been awarded an Officer's Cross of the Order or Polonia Restituta (Poland), and an Honorary Golden Star of the Ministry or Culture, Lithuania, as well as numerous choreographic prizes worldwide.
Pastor had no hesitations in taking on Dracula, "When Aurélien asked me if I wanted to create a new Dracula on West Australian Ballet I instantly said yes. I had always wanted to make a version of Dracula and when he mentioned Phil and Charles would be involved I couldn't say no."
Unlike most new production builds, the sets and costumes for Dracula have been made right here in Perth in a collaboration with Black Swan State Theatre Company's production department. Throughout the creative process, Daniels and Smith have worked with the local set makers, mechanists and West Australian Ballet's in-house Wardrobe and Technical teams to ensure the work is created to the highest standard.
"It was so important to us that the new build was made here in Perth and working with local industry. This has allowed a once in a lifetime opportunity for a knowledge exchange between two highly awarded international designers and Western Australian design and production teams," explains WAB Executive Director Jessica Machin.
One of the highlights of the production will also be the dramatic score which features many of the pieces used in the 1992 film Bram Stoker's Dracula, and will be performed live by the West Australian Symphony Orchestra under the instruction of acclaimed Canadian Conductor, Judith Yan.
The score has been composed by Wojciech Kilar (who also composed the score for the film, Bram Stoker's Dracula), and was only adapted slightly to fit with the choreography. The arrangement of Kilar's work has been meticulously created by WAB Music Coordinator Michael Brett based on the storyline created by Dramaturge Pawel Chynowski.
DRACULA | WA Ballet
6 – 22 September 2018
His Majesty's Theatre
Bookings: waballet.com.au