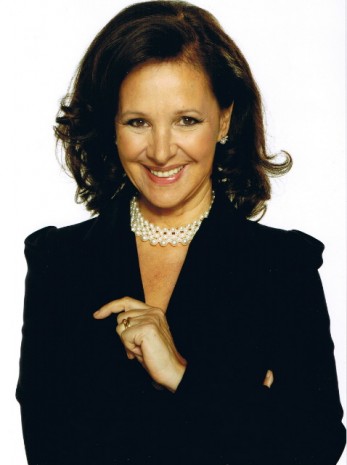 By Cimone Grayson
Arlene Phillips, world-renowned Director and Choreographer has amassed a body of work to include musicals We Will Rock You, Starlight Express, Saturday Night Fever and Flashdance. Music videos from AC/DC, Queen, Duran Duran, Elton John and Whitney Houston and she's also a prominent UK celebrity. Speaking from her London home last Friday morning Arlene took time out between rehearsals to chat about dance, performers, choreographers and the weather.
A tight schedule means we immediately launch into discussions, beginning with Nigel Lythgoe. "I first met Nigel in dance classes, we then auditioned together for a new dance company 'Young Generation', he got the job and I didn't, I've never forgiven him! I went on to create Hot Gossip and Nigel began work as a BBC Producer and Director, often I was choreographing things he was producing. He later moved to America created So You Think You Can Dance and remembered me. He said "there's no one better to judge a dance show and besides she's older than me and I like that!" In this latest series Arlene observes some trepidation, the focus on the performers has shifted towards showcasing the choreographers and some of them are extremely nervous. "It dawned on them that what the contestants are dancing is just as important as who is dancing. You may have a brilliant dancer but if the choreography has no impact the dancer may be asked to leave, it's so important that the choreographers deliver, equally important that they get talked about and get their names out there."
Dance has evolved over the years and Arlene's personal biggest dance influence was Alvin Ailey. "Nothing affected me as watching Alvin Ailey's Revelations. The dancers were technically brilliant but the joy in the dance was something that stirred me. From Twyla Tharp to some of the newer companies who are moving in extraordinary ways, Hofesh Shechter an Israeli choreographer does wonderful work. In England there was a massive dance explosion in the 70s, every Saturday night entertainment show had dance, Pans People and then Hot Gossip for the Kenny Everett Video Show, locking and breaking was coming in and contemporary was starting, it felt like dance was everywhere. In the mid 80s to 90s dance died, you only saw dance in videos, these were the faceless dancers, the second dance explosion was when Strictly Come Dancing arrived, who would have thought three big dance shows at the start of 2010."
TV dance shows have popularised dance and Arlene agrees this has been monumental in so many ways, "When we began Strictly Come Dancing it revived not just dancing but every aspect of dance. Numbers had dropped in dance schools, dance shoe factories were closing down – there was nothing. Now there are streets of dance shops and hundreds of schools around the country, it brought people into ballroom and Latin classes, TV shows have given us acts like Diversity and Pied Piper, hip-hop has exploded. It's unbelievable how big dance has become."
Arlene Phillips has mentored and terrified dancers too numerous to mention but with the nation held to random by freezing temperatures and heavy snowfall Arlene's focus today will be on safely making rehearsals, then she can think about tomorrow's filming of So You Think You Can Dance. Working long hours and an unrelenting schedule is completely normal for Arlene, when I mention the word retirement she simply says "Not yet, I'm afraid if I stop I'll fall apart. Work keeps coming, it's quite extraordinary." Never one to lose sight of how it all began she marvels at her life and how dance has shaped her, "I can never forget where I started, I was the little girl who wanted to dance but was always told my legs were too short, my body was the wrong shape, I was the fighter at the back of the class, it's always been a struggle but with hard work and a solid conviction you can do it." With so many accolades to her name her proudest career moment was an extraordinary moment for Arlene, "In a sense a quiet moment when the Bolshoi came to London 15 years ago and their dancers took my class. One of the principals Gedeminas Taranda asked me to choreograph a piece when he was invited to perform guest solos in Russia. I now think to myself, a girl from Manchester who had a passion and a love to dance has actually worked with one of the most recognized dance companies in the world."
When asked how she juggles everything she explains "I'm working the longest hours in the world and so many days. From Sundays through Fridays I rehearse the Strictly Come Dancing tour, that I also directed and I travel back to London, on Saturdays I film So You Think You Can Dance and then return to the tour on Sundays." The whole of England is at a standstill with the snow but there are no signs of Arlene even slowing down despite the weather.
http://www.youtube.com/watch?v=znmEJEpVwDo&feature=SeriesPlayList&p=DCBCA5EAF1FB2037 Get involved, upload a video to the BBC YouTube site and you may feature in the final UK show.
http://www.youtube.com/watch?v=MVKG05S3jOM SYTYCD preview with introduction by Arlene Phillip
Cimone Grayson is the Managing Director of INC Sydney. Cimone Grayson, former assistant for 8 years to world-famous director/choreographer Arlene Phillips, is spearheading I.N.C Sydney. Cimone's time with Arlene has provided her with an extensive knowledge of the Australian and UK entertainment industries. Past projects include the Australasian tour of Saturday Night Fever; the Australian debut of We Will Rock You (with Annie Crummer); Starlight Express; and TV's popular Dancing With the Stars (with Bruno Tonioli).
DanceLife is thrilled to have Cimone on our 2010 Contributers Team!