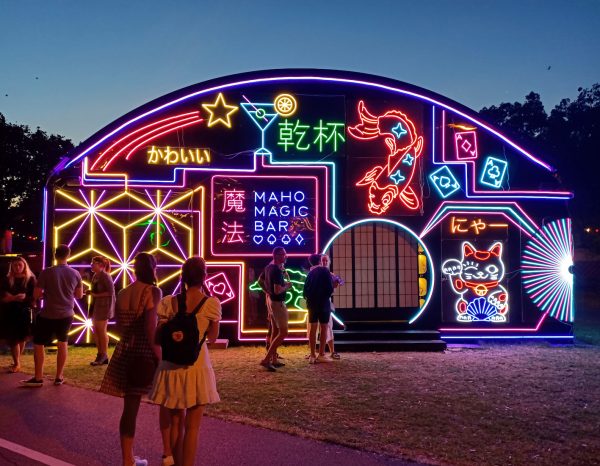 Blanc de Blanc Encore and Maho Magic Bar!
March 31 –  April 23
After a sensational season in 2019, Newcastle's favourite pop-up festival The Spiegeltent is back!  From 31 March – 23 April, the highly anticipated Spiegeltent Newcastle program returns with incredibly talented performers and some big surprises.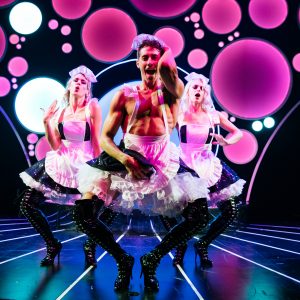 Taking up residence in the opulent Spiegeltent is Blanc de Blanc Encore: the ultimate hedonistic night out – champagne-soaked, breath-taking, hilarious and adults only.  The sequel to the celebrated 2018 show, Blanc de Blanc, Blanc de Blanc Encore pops the cork on a scintillating, steamy blend of breath-taking live jazz, thrilling circus tricks, side-splitting comedy, astounding acrobatics and risqué humour.
Scott Maidment, Founding Director of the award-winning and boundary-breaking production house, Strut & Fret, says: "Novocastrians have shown us that they are ready and willing for the escapist entertainment of The Spiegeltent. We can't wait to finally introduce our latest circus-cabaret corruption, Blanc de Blanc Encore, and this year we also welcome the unmissable Maho Magic Bar which must be seen to be believed."
Direct from Japan, Maho Magic Bar, will sit alongside the Spiegeltent in a bespoke Japanese venue. Setting the night ablaze like a neon-lit happy snap of Shinjuku, Maho Magic Bar is unmissable. Step inside, and you will find a gorgeously refined bar and entertainment space spread across six spacious performance areas. After taking your seat and selecting your drink of choice, consummate master magicians will perform your own exclusive magic show at your table – creating an unforgettable, multi-sensory and interactive experience unlike any other night out!
About Blanc de Blanc Encore – A Strut & Fret Production
After a record-breaking debut season at the Sydney Opera House, Blanc de Blanc Encore is a brand new show which resurrects the hedonistic, champagne-soaked world of beautiful debauchery in Blanc de Blanc (last seen in Newcastle in 2018). The sequel invites audiences to crack open the champagne and indulge their senses in a scintillating, steamy blend of breath-taking live jazz, thrilling circus tricks, side-splitting comedy, astounding acrobatics and risqué humour.
★★★★★ "…an opulent hedonistic mix of debauched dance, sensuous song, contortion cabaret, acrobatic burlesque and cheeky circus" – Theatre People
"A highlight of the Sydney summer" – The Sunday Telegraph
"Gatsby-levels of sensorial extravagance" – The Plus Ones
"…an intoxicating, vivacious evening of high-class cabaret bubbling with surprises" – City Hub
About Maho Magic Bar – a Broad Encounters production
An Australian first, Maho Magic Bar delighted, astounded and set the standard high for its sold-out premiere season in Adelaide in 2020. Wave a wand to 2022 and Maho Magic Bar is now hurtling into Newcastle like the Shinkansen, carrying with it it's troupe of prodigies of magical and mischievous prowess from the labyrinthian tumult and high-octane energy of Japan's nightlife capitals. With its dazzling bespoke venue, captivating and awe inspiring show, delectable bar offering, and small capacity, Maho Magic Bar is a truly immersive experience . . . and a night out like no other.
★★★★1/2 "Booze, card tricks and craziness … a great night out." The Advertiser
★★★★ "Pure joy" In Daily
★★★★ "Loved every minute of it" All About Entertainment
★★★★ "An enthralling performance, never failing to leave us speechless"
Blanc de Blanc Encore & Maho Magic Bar
Newcastle – Spiegeltent, Civic Park
From  31 March – 23 April 2022