STEPHEN TANNOS is making his mark on this season of So You Think You Can Dance as one of Australia's Top New Choreographers! With almost weekly explosive routines, Tannos' work has caught the eye of the judges on several occasions with them asking why he's not already choreographing in Vegas!



We caught up with Stephen for a quick chat recently and asked how he managed to arrive at his current destination!
Interview with Stephen Tannos – (after first live show)

"Choreographing on So You Think You Can Dance has always been like a dream of mine so I guess since being on the show six years ago, to actually be on the other end of it was kind of surreal! For everything I'd heard it's quite a scary experience and you sit in the audience and you've got all these other choreographers around you and you're all really nervous but once the performance is done you're all really happy for them and you've got to wait to see what the judges have to say, so the whole thing is such a scary process. But it was such a pleasurable experience really!"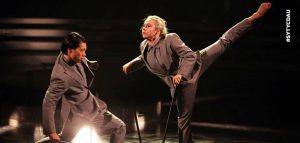 How would you describe your style?
"On the show I guess it's contemporary jazz but urban contemporary is probably the best label for it. When I had Renelle and Lauren, of course I've had Lauren in class before but Renelle took my work like a fish to water as well. Lauren is a machine – she's so strong! I have quite a few things coming up on the show."

What was your process in gaining your position as a choreographer for SYTYCD?
"So when the show was re-announced, when the first FaceBook status went up, I was actually having coffee with Marko (Panzic) and Katie (McMahon), and I literally just said to them 'I hope I get the chance to choreograph on the show'. Marko was like 'OMG you so will, you just have to put your head down, work hard and be patient. Literally about ten minutes after that I got a phone call from Leanne Cherney, one of the performance producers and she said 'We want you to submit choreography for the show'. So that happened about 3 or 4 months ago and I started sending in submissions – I obviously was already on their radar which was awesome – and then they just started responding to what I was doing and started asking me to send more and more and more! It's a process of getting your music cleared first and once that happens the actual video submission, your costume ideas, your lighting ideas and your props and everything is kind of put together in a package."




From a fundamental point of view, where do you find your inspiration as a choreographer?
"I guess I've been coined as 'animalistic' from my first effort on the show which isn't always what my style is based upon but I'm kind of inspired generally by people's more ugly traits. The inner beast that humans have – the rawness of human emotion – the uglier things that people don't want to focus on too much are the things that inspire me the most because I like to create things that a larger than life from that because those emotions are so ugly and powerful."
What is your background?
"I trained at a little school called AP Performance until I was about 13 years old and then I wanted to branch out and I moved to Brent Street and realised I wasn't 'the best' which was quite a shock to me. I put my head down for those five years at Brent Street, and tried to be as good as everybody around me."



Most of the Top 20 this year are from Sydney, NSW – do you think that's a reflection of the industry in general?
"I guess some of the dancers are people that have come from different places and moved to Sydney to try to 'make it happen'. Sydney I guess is the hub of dance work in Australia so you have the biggest concentration of strong dancers here in Sydney because that's where the work is with a lot more opportunity."
How do you see the SYTYCD program helping the Dance Industry on the whole?
"It's crazy what it does for the industry! It puts energy back into what we do and it makes people see what we do on its own as opposed to us being behind the singer or at a corporate event. It shows people that we can be the full time entertainment. The general public have such a pear-shaped view on dancing – people don't understand that I make a full-time living from dancing. I mean, IT IS A JOB! As much as it seems like we're having fun, it makes people see the potentiality of it!"

Going from being a competitor on SYTYCD in previous years to now being a Choreographer, does it make it easier for you to connect with the contestants when you're working with them?
"I think when I'm in rehearsal with the contestants, from being on the show as a contestant, I know when they've reached a point when their bodies are saying 'I can't do it anymore' because I remember that feeling myself! I think I can tell when they're super-fatigued and we call it a day. We get two days with the contestants to work on their piece and then we get some on-stage time blocking things out with them. As the comp goes on though I think the time will be whittled down a bit."
SYTYCD – NETWEORK TEN Thursdays 7.30pm
Contact us if you would like to book Stephen for Workshops at your studio!
info@dancelife.com.au