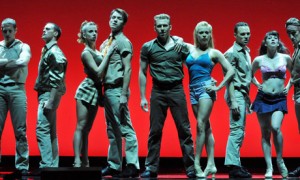 After several years of unreliable rumours, casting is finally under way for the highly coveted 50th Anniversary World Tour Production of West Side Story. As I visualise the 1994 – 1997 production of West Side Story I Dance Captained, my heart is filled with the perfume of mixed memories.
Being responsible for dancer casting and the maintenance of Jerome Robbins original choreography induced the most unbelievable growth spurt of my career at the time. Dancing that choreography is like going to your favourite place on Earth. You have to keep going for visits, and sometimes you cry when you leave. My chest still jumps with excitement remembering the score played by Australia's ace level musicians, with the scream of the horns as they played the intro to Dance at the Gym, and Dave Newdick's impossibly high F notes.
Work was like play with wonderfully spirited show folk like Penny my dresser, Billy 'Mamma' Roach, and Ray Wilson in wardrobe, Kevin 'Handbag' Hanily our company manager (RIP), the lovely VSO/ IMG producers, and a stunning cast including Caroline O'Connor, Marina Prior, Kelley Abbey, Sharon Millerchip, Leonie Page, Todd McKenney, Adam Marchant, and especially Penny Martin and Cameron Mitchell who both kept me laughing from dusk to daylight.
Those four years were a precious gift and I'd like to pay it forward now. Here's a head start to your audition preparation research. I warn you however, you are bound to fall deeply in love with this show as you become intimate with the material. So pucker up for some background loving. Shshs…this is just for you.
Jerome Robbins West Side Story choreography amped up a new standard of dance in musicals when it first played in 1957. The 2009 production, directed and choreographically recreated by Joey McKneely, honours Robbins' original choreography once more in a reinvigorated adaptation of the Romeo and Juliet inspired story.
Hopeful auditionees should prepare themselves dramatically for this dance audition, as well as familiarising themselves with the choreography if possible. "If you remove Jerome Robbins's choreography, you lose significant plot, storytelling moments, and you lose characterisation elements that are set in the dance," McKneely said in an interview with the NY Times' Julie Bloom. "It's rare that shows have dance as that kind of signature. It's the emotional glue."
West Side Story calls for a cast of quintessential Triple Threat performers and the Broadway creative team will come with incredibly high expectations of their auditionees. McKneely who worked closely with Robbins for 10 years before his death in 1998 attests that Robbins' felt the "choreography never changed for an individual – the individual changed. But what I learnt from him is so ingrained: Never accept mediocrity. Maintain your integrity."
McKeely has been uncompromising in his recreation of Jerome Robbins original choreography, and one would imagine he will be seeking absolute attention to detail in the audition. Style as well as steps are important. Try to get the nuances of the style. Practise them into your muscle memory now.
Russ Tamblyn, who played Riff in the 1961 film version asserted: "I don't think [Robbins] was happy with a dancer unless their feet bled." When Robbins finally finished with the song Cool, the dancers burnt their battered kneepads outside his office.
Consider doing more for this audition than you've done before. Go the extra mile to train for this one. Mark Byrne, Natalie Bassingthwaighte's manager, recommends you "Train and work hard in your weaker ability areas, and you will be rewarded with better job offers"
Auditions take place in Melbourne and Sydney in November with a six month Australian tour set to kick off in Sydney in July 2010.
Join me for the Audition Specific Preparation Workshop focusing on West Side Story. Learn the original choreography and gain elite level insight into this show.
DATES AND VENUES

MELBOURNE –
Wednesday 18th November
9:30 – 3pm
The Space Prahan
SYDNEY
Monday 23rd November
2:30 – 8pm
City Venue TBC
Cost $99 cash on door, or $77 advanced sales
Email tia@auditionguru.com to book. Due to space restrictions there are limited places.
Tia Jordan, Audition Guru, are independent educational facilitators and are in no way associated with the producers of, or the show West Side Story.