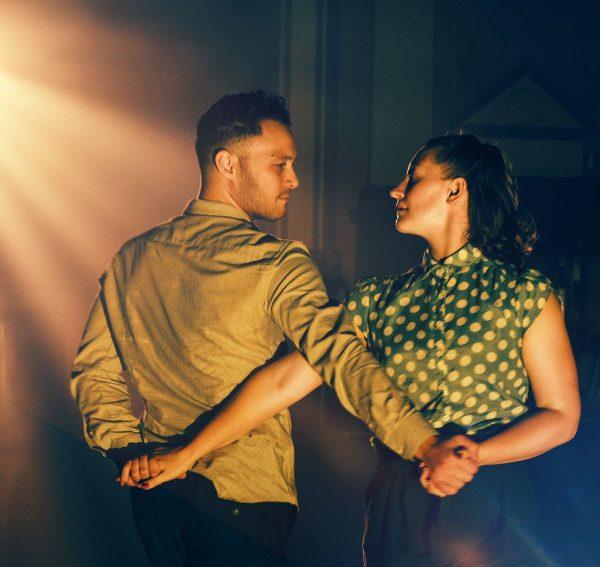 Dance Makers Collective
Rivoli Dance Palace in Parramatta
From the early 1930s to the late 1960s, the Rivoli Dance Palace in Parramatta was Western Sydney's favourite dance hall. Demolished in 1973 to make way for an office development, now nothing remains of 'The Riv' except the stories of the people who danced there.
Featuring some of Australia's best dancers and a stellar live band, Dance Makers Collective's The Rivoli is an immersive dance hall meets dance theatre performance. Throughout this work, you'll hear the voices of people who danced at The Rivoli, as well as the voices of those who dance now, in the regions.
A hit at Sydney Festival 2020, this joyous production invites you and your favourite dance partner to be swept into a mesmerising exploration of mid-century nightlife, desire and social connection.
Director
Miranda Wheen
Performers
Jana Castillo
Mitchell Christie
Eliza Cooper
Emma Harrison
Taiga Kita-Leong
Katina Olsen
Carl Sciberras
Ella Watson-Heath
Lighting Designer
Benjamin Brockman
Production Manager
Samuel Read
Composer
Matt Cornell

The Rivoli
Ulladulla

– Ulladulla Civic Centre, NSW
Land of the Dharawal (Tharawal) People
From 23 & 24 March
Valley Hall

– Kangaroo Valley Hall
Land of the Wodi-Wodi People
From 26 & 27 March
Dubbo

– Dubbo Regional Theatre & Convention Centre
Land of the Tubba-Gah & Wiradjuri People
From 1 & 2 April
Bathurst

– Bathurst Memorial Entertainment Centre
Land of the Wiradjuri People
From 6 & 7 April
Oberon

– Malachi Gilmore Hall
Land of the Wiradjuri People
From 9 & 10 April