DirtyFeet Presents its Free Workshops for Dancers of All Abilities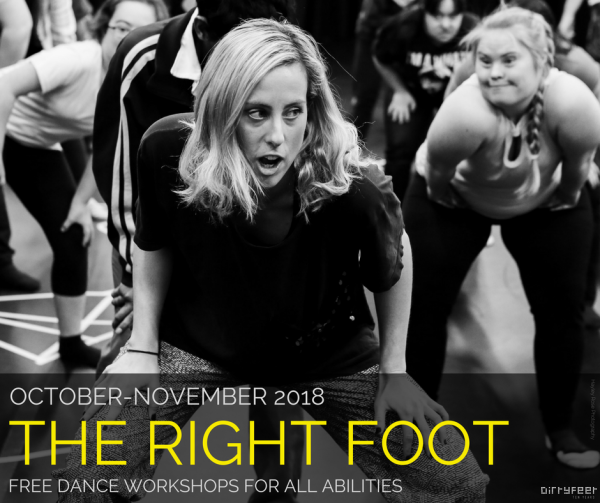 October – November | Limited Places
DirtyFeet is once again running The Right Foot contemporary workshop program especially designed for young dancers with, or without, a disability which will culminate in a performance.
DirtyFeet invites participants from all backgrounds and experiences to their popular workshop series The Right Foot. The workshop series focuses on creative dance and technique and for the first time culminates in a performance sharing at Riverside Theatres Parramatta.
Open to participants aged 14-26 with or without a disability, the workshops are offered FREE to participants. The program focuses on dance training, improving the health and wellbeing of participants, and is a confidence-building creative outlet.
The workshops have been held yearly since 2012. With the ongoing success of the program and the growing confidence and skills of participants, this year's workshop will see participants apply skills learnt in performance studies at partner venue Riverside Theatres, Parramatta.
The Right Foot Program Manager, Melinda Tyquin says, "each year we have a cohort of returning participants and have been progressively able to build and develop their contemporary Dance technique and understanding of improvisational structures. We now want to give participants a performance setting to apply these skills, and see first-hand the impact theatrical elements make when creating movement."
Brianna Kell, The Right Foot Workshop Facilitator says similarly, "In past years there has been a unanimous desire from participants for a performative stage experience, it's really exciting that we are able to take our workshops and give people the opportunity to perform. Offering people theatre experience and training will open new prospects and exciting opportunities for everyone involved."
DirtyFeet is committed to the professional development of young dancers with disability and passionate about finding ways for professional artists to give back to the community.
The Right Foot offers FREE contemporary dance workshops for young people with and without disability, providing a creative activity for those who may otherwise not have access to dance. We believe in the positive impact dance has on people's lives – it is a creative way to improve health and fitness, encourage self-expression and build confidence.
THE RIGHT FOOT
October 6, 13, 20, 27 & November 3, 10
10am – 1:30pm
Studios 404, 404 Church St, Parramatta NSW
Register Now: www.dirtyfeet.com.au/the-right-foot-2018