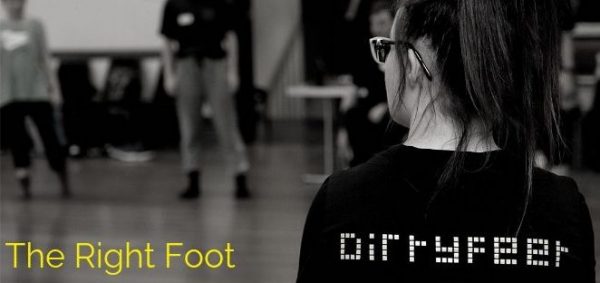 Call out for Dancers of All Abilities for DirtyFeet's Free Workshops
Limited Places for October-November Event
DirtyFeet invites participants from all backgrounds and experiences to their popular workshop series The Right Foot. Now in its eighth year, the workshop series focuses on contemporary dance and performance techniques and for the first time culminates in a performance sharing at Monkey Baa Theatre.
Open to participants aged 14-30 with or without a disability, the workshops are offered FREE to participants. The program focuses on dance training, improving the health and wellbeing of participants, and is a confidence-building creative outlet.
Leading the workshop series in 2019 is emerging choreographer, dancer and advocate Riana Head-Toussaint, and accomplished choreographer and dancer Brianna Kell. Riana says, "I am really interested in creating space for people to generate their own movement and revel in what their bodies can do. I want people to feel empowered to move in whatever way is most comfortable and exciting for them, in their own skin! I also want to expand people's ideas about what dance can be – what types of movement, in relation to sound, objects and lighting."
The workshops have been held yearly since 2012. With the ongoing success of the program and the growing confidence and skills of participants, this year's workshop has a creative development focus and will see the presentation at partner venue Monkey Baa Theatre, ARA Darling Quarter. Following the presentation will be the launch of DirtyFeet's Inclusion Action Plan (DIAP) and a celebration of the program's success.
DirtyFeet is committed to the professional development of young dancers with and without disability and is passionate about finding ways for professional artists to give back to the community.
The Right Foot offers FREE contemporary dance workshops for young people with and without disability, providing a creative activity for those who may otherwise not have access to dance. We believe in the positive impact dance has on people's lives – it is a creative way to improve health and fitness, encourage self-expression and build confidence.
THE RIGHT FOOT 2019
Saturday 5, 12, 19 & 26 October
10am – 1:30pm
Redfern Town Hall
Presentation on Saturday 2 November
Monkey Baa Theatre, Darling Quarter
Registrations: www.dirtyfeet.com.au/the-right-foot-2019
Facebook Event: www.facebook.com/events/2790231097681998/