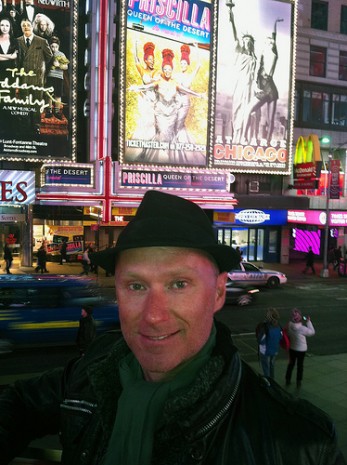 DanceLife was lucky enough to catch up with Aussie born but international choreographer Andrew Hallsworth while in New York the other week.
Andrew is the co-choreographer for Priscilla on Broadway has also choreographed the MTC's production of The Drowsy Chaperone, the original production of Eurobeat – Almost Eurovision, revived for the West End. Menopause – the Musical. Leader of the Pack, Sideshow Alley, The Merry Widow and Cabaret's Tegrity and Newley Discovered. Television credits "We Can Be Heroes," "Dead Gorgeous" for ABC/BBC TV, "The Librarians" for ABC and "So You Think You Can Dance Australia." For The Production Company, choreographing Carousel, Mame, The Boy Friend, The Boy from Oz and as co-choreographer with Ross Coleman on The Music Man and Bye Bye Birdie.
This is what Andrew had to say.
1. As Co-Choreographer Of Priscilla The Musical What Was Your Main Responsibility With Taking The Show To America?
The main focus for me was to maintain and retain as much of the original choreography by Ross Coleman as possible. We have made many changes to this version of Priscilla, new songs, new opening, and new ending. We have shaved quite a bit of time of both acts also. The main responsibility really was to choreograph the new routines in a similar style to Ross so it was streamed lined choreographically. Ross and I worked together for so long and have very similar styles so the best person to attempt this was me and Ross would trust that i could do it. One other responsibility was to make sure the company 'got' the Australian energy. Our uniqueness and the way Ross and i staged the routines as Priscilla's journey progresses from Sydney to Uluru. That is one of the greatest things about Priscilla, it's an Australian story so we need to hold on to that.
2. Having Worked Now With An Australian Cast And An American Cast What Are The Stand Out Differences Between Them?
Honestly we hold our own against the Americans although Broadway performers really are a class of their own. This is the centre of the musical theatre universe, so many shows and all the leaders are here that 'do' musicals. You have to be at the top of your game so they have this unwavering work ethic and unending glasses of talent. They attend class here, even when doing 8 shows a week, never rest on their lorals because if they do there are 1000's of other performers waiting in the wings. Very similar to Aussies really, but on a grander scale but that Broadway shine really does dazzle. We are just as talented in Australia, there are just so many more of everything here, dancers, singers, shows
3. You Are The Choreographer On The Boy From Oz Which Played Last Month In Sydney. How Did You Come Up With A Fresh Approach To Choreographing The Show That Australian Audiences Have Seen Many Times Before?
I just did it my way. I remember seeing the original tour and hoped that one day I would get the chance to choreograph the show. Luckily that happened when Todd McKenny and Nancye Hayes asked me to be apart of their production. This is a concert version so we have no moving sets, so you rely on great performers telling the story through the scenes and routines. We have such a strong talented cast so it was very inspiring everyday in the rehearsal room. Nancye guided us all so brilliantly; our version has been so successful which has been great for everyone involved
4. Making The Transition From Performer To Choreographer Seemed A Natural Progression For Your Career. What Key Qualities Do You Have That Has Made The Transition Such A Successful One For You?
I was never interested in being a leading man and I was never interested in running off to the UK to perform on the west end so from the very beginning I was slowly building all my contacts on home soil. The creative side was what kept me inspired so that was my focus. From my first show, 42nd street, when I was 17 years young, I always watched the rehearsal process with a keen eye. The way the creative teams built the show from rehearsals to tech to performance always intrigued me. I also have never been afraid of the rejection side of our industry. I'm a true believer that if you don't ask you'll never know and the worst case scenario is 'no' so if you can deal with being told 'no' you're ok. I just let things happen really, if there was something that I was truly interested in I went for it and if it didn't come my way it wasn't meant to be. I was lucky to be introduced to Ross Coleman. I'd finally found a mentor that choreographed the way I had been searching for as a dancer and it was just at that right time in my career to start assisting and building my strengths as a choreographer. Ross gave me opportunities that I'm so grateful for. I also found myself drawn to new Australian shows that were being stage from scratch with Australian creative's so that helped build partnerships on home ground. Most of all I've never been pushy, can't stand that.
5. Being A Choreographer Who Works Throughout The World What Qualities Do You Believe Make A Dancer Continually Employable In Such A Competitive Industry?
That's easy and I see it every day while I'm here working on Broadway, you have to keep up the classes, acting singing and dancing because there's always more you can learn and give. Treat it like a career
6. After Having Completed So Much In Your Life To Date, Where Do You See Yourself In 5 Years Time?
Working on new Australian musicals. Taking Priscilla to more cities around the world. My new musical theatre course ay Patrick Studios Australia in Melbourne producing talented performers for our industry and spending more time with my partner, family and friends.