Prying Eye Productions Explores Anxiety and Mental Health through Funny Innovative & Participative Show
Adelaide Fringe, Tandanya Theatre, February 24
Review by Amy Donohue
The Inquisition of the Big Bad Wolf at the Adelaide Fringe communicated some of society's great expectations, which often cause anxiety, in a humorous, relatable and stimulating way.
This contemporary dance piece by Brisbane-based Prying Eye adopted a some-what 'cabaret' persona, by inviting audience participation, breaking the fourth wall and incorporating inner monologues and live music.
Each section of the performance addressed different elements of anxiety primarily through movement performed by Charles Ball, Lizzie Vilmanis and Zaimon Vilmanis. The work is open to interpretation and therefore may be difficult for those who struggle with the language of dance.



The opening scene focussed on social anxiety and caused deliberate tension and awkwardness for the viewer, which fooled the audience into believing that the performers were ill-rehearsed. This created suspense of what was to come, which was highly intriguing.

The following dance piece comically communicated the prevalence of technology in today's society, which was accompanied by the familiar Allegro Con Brio from Beethoven's Fifth Symphony. The choreography in this piece demonstrated the light and the dark sides of technology and its affect on each performer's mood. As the tempo of the music changed it varied the mood of the dancers. For example, the fast tempo was mirrored in erratic movements and contractions, which indicated a sense of panic. The slow tempo, however, was reflected through balletic movements, which highlighted each dancer's incredible technique and the happiness derived from technology.
The witty, yet hyperactive, monologue spoken by Lizzie Vilmanis, over-analysed the storyline of the three little pigs, and this acted as a soundtrack for the inner conflict Charles Ball and Zaimon Vilmanis were experiencing on stage. The two performers stayed connected at al times with at least one body part and engaged in movement that was fast-paced, aggressive and involved a variety of partner lifts. This scene was highly relatable as it emphasised the act of overthinking unimportant things in a comedic light.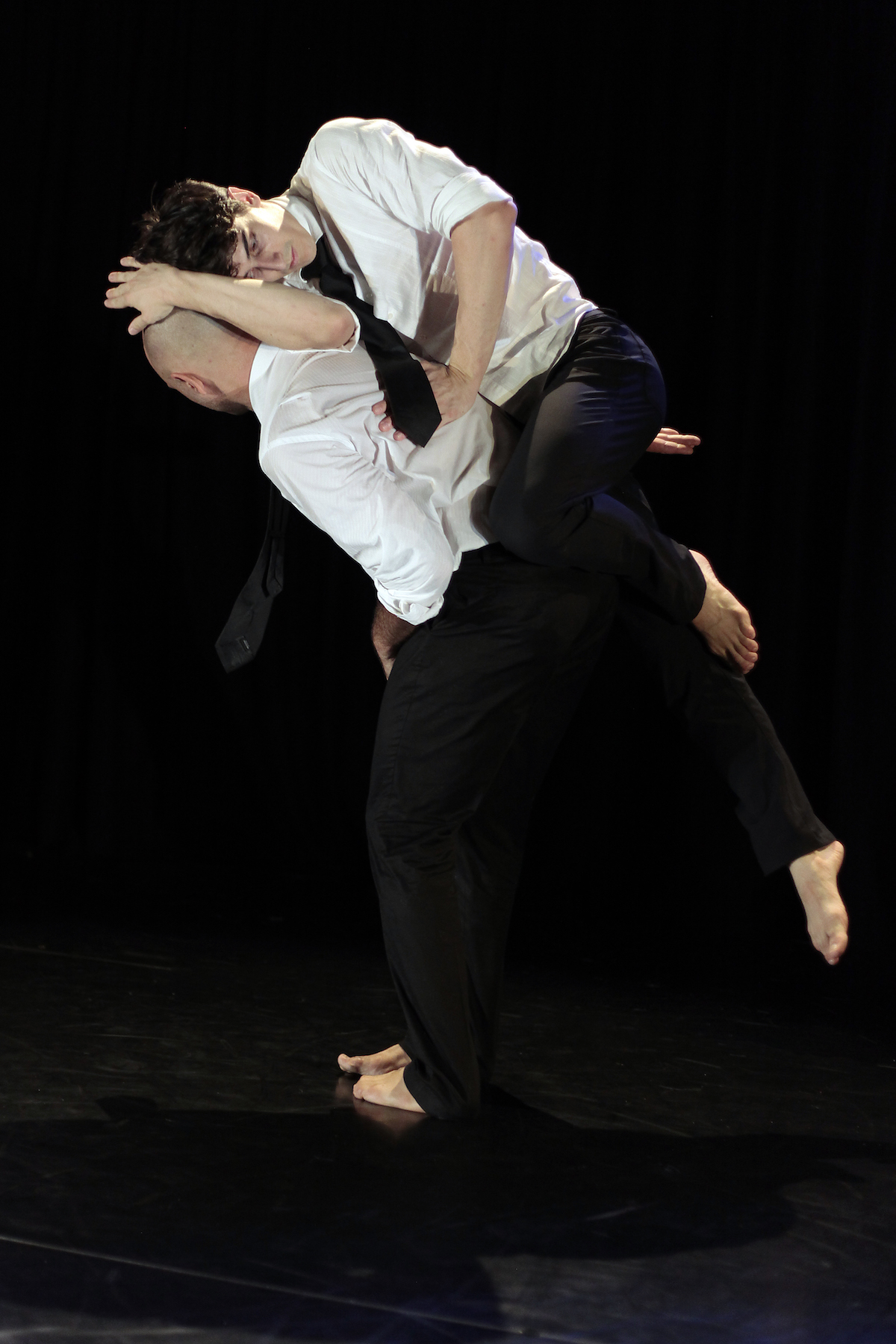 Guest performer Altina McGrady sang a lyrical piece Run With the Wolf, which was hauntingly beautiful. This song brought a sense of vulnerability, which was highlighted when Lizzie Vilmanis stripped down to her underwear and performed with wonderful extensions and exhibited captivating stage presence.
The highlight of the show was the 'whacky' ending, which had the audience laughing uncontrollably, due to comical movements, crazy costumes and audience participation. At this point it was clear that everyone thoroughly enjoyed the show. The cast worked cohesively to take the audience on a rollercoaster of emotion and succeeded in making the uncomfortable topic of mental health approachable and more relatable. I believe this fringe show is a must see this mad march.


The Inquisition of the Big Bad Wolf | Prying Eye Productions
Tandanya Centre, 253 Grenfell St, Adelaide SA
21 Feb – 4 Mar 2018
Run time: 60 minutes
TICKETS: www.adelaidefringe.com.au