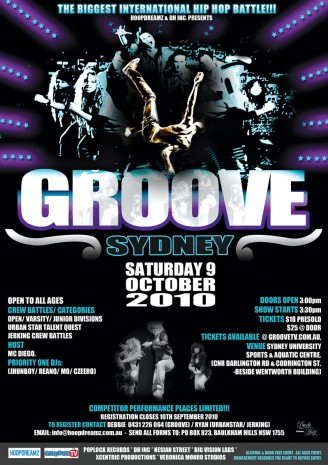 Calling all hip hop crews, freestylers and break dancers to the dance floor – the hottest dance competition is back in Sydney.
Groove, a world renowned competition, is giving an opportunity for performers ranging from amateur to professional a chance to express themselves on the dance floor.
This edgy, in-your-face competition combines the world of dance with the growing street-smart urban culture.
Starting in 2002, the event has been the stepping stone to successes such as Australia's Got Talent winners, Justice Crew.
Event co-ordinator, Debbie Hatumale, believes that this event is a great chance for those who love to street dance, but don't get an opportunity to do so
"Groove is an opportunity for street dancers," Ms Hatumale said.
"Most of the time we have Esteddfods for dance schools to participate in…there's no street dance culture, no representation,"
She also says the event wants to reach out to the community to dancers of all ages and experiences to get involved.
One group includes a dance crew from Hurstville Boys entering for the first time this year.
"They've probably only been dancing since the beginning of the year," said Ms Hatumale.
"The reason why they've come together is they heard of Groove…they wanted to not to win but to represent."
Entries for the competition are now being taken.
Stand out dancers will be given the opportunity to represent their city at the World Elite Championships in Manilla, Philippines.
Groove Sydney will take place 9th October at the Sydney University Sports and Aquatic Centre. For more information visit http://groovetv.com.au or contact 0431226064.