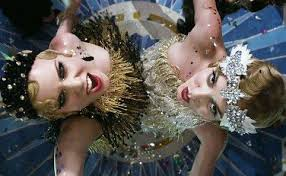 The interior of Sydney's Hordern Pavilion was last night transformed into the decadent Gatsby Mansion. Lavishly decorated in opulent gold and silver with a massive tinsel chandelier encircling the rooftop, the room is set to host 'Party of the Year' and celebration of the brilliance that is Baz Luhrmann.
Having already grossed over $135 Million at the box office since opening in New York two weeks ago, The Great Gatsby is set to become yet another Luhrmann triumph. Whilst reviews are mixed from the myriad of critics, lovers of musical theatre will undoubtedly revel in Luhrmann's reinvention of the classic 1920's romantic drama written by F. Scott Fitzgerald.
Baz Luhrmann is internationally renowned for adding his creative genius to great stories as a 'reinvention of the modern musical'. With a stunning list of successes beginning with the 'Red Curtain Trilogy' of 'Romeo & Juliet', 'Strictly Ballroom' and 'Moulin Rouge', Baz changed the face of film-making and storytelling here in Australia and around the world. Whilst 'Australia' deviated from Baz's formula of mixing a great modern soundtrack with musical theatre based storytelling, 'The Great Gatsby' brings back that award-winning combination with the brilliance of a stellar cast including Leonardo DiCaprio, Tobey Maguire, Carey Mulligan, Joel Edgerton, Elizabeth Debicki, and Isla Fisher. It follows the life and times of millionaire Jay Gatsby and his neighbor Nick, who recounts his encounter with Gatsby at the height of the Roaring Twenties. Luhrmann's narrative is told through the internal dialogue of Nick – a new and fascinating delivery of this jazz-age tale.
Last night's red carpet and screening brought out Sydney's entertainment industry in droves. Not even the wet weather could dampen the spirits of revelers at the invitation-only after party. With multiple magnums of Moet flowing and a feast fit for the opulent Jay Gatsby laid out buffet-style, the night was set to swing. Many of Sydney's finest dancers were cast in 2011 to the impressively choreographed party scenes by John 'Cha Cha' O'Connell. Many of the same dancers and some new cast surprised last night's party goers with an entertainment package of the highest calibre. Choreographed by Caitlin Gray who also created the New York Premiere party scenes, Cameron Mitchell described the entertainment as 'a feast'. He said, 'It was just like WOW! It captured everything that Baz Luhrmann is about – every single piece to overload you and get you in the mood straight away just like every single film of his – it was amazing!


Lucas Newland described the vibe as a 'mix between 1920's and new-school decadence' and Kelley Abbey felt it was 'opulent, stylish, classy, elegant and fabulous'. Kelley went on to say that Baz Luhrmann is '… so great for our industry, he brings the films to Sydney when he doesn't have to and he provides a great forum for all of our dancers, talent and Australian actors … it's fabulous!'
Dancers Morgan Choice, Lisa Viola and Tiffany Duncan were on hand to express how much they enjoyed the whole experience and working with Caitlin Gray under the direction of Baz. Tiffany said the level of detail was 'brilliant … from the intricately choreographed pieces to the hair and makeup, the whole experience was fantastic and Caitlin just really kept everything alive'.
The only unfortunate incident of the evening involved headlining act iOTA, who appears in the film as Trimalchio, the slightly insane orchestra leader at Jay Gatsby's West Egg party mansion. After emerging on stage surrounded by dancers dressed in 1920s flapper outfits, iOTA burst into an energetic song and dance routine. But the routine, which he had done at the New York and Cannes premieres, contained one step too many, and he sailed straight off the front of the stage into the stunned crowd. Despite suspecting he had broken his arm, iOTA barely missed a beat, carrying on with the show at full energy and sass.
Phenomenal vocal performances from Bonnie Anderson and Prinnie Stevens also ensured the evening met with approval from the star-studded VIP crowd.


As the night crept into the early hours of this morning, Baz finally ventured from the VIP area to commune with the throng of inspired guests. We asked him briefly where his inspiration came from to 'reinvent the modern musical' to which he responded that it was 'purely his passion'. He then caught a short dance break with Caitlin to Salt'n'Pepper's 'Push It' among squeals of delight from the professional and other dancers who also hit the floor.
To read our interview with Caitlin Gray, please view separate article here
Click on these links for The Great Gatsby official website and Facebook page. There is now an official Twitter page posting fantastic links, including a slideshow of the lavish movie sets and soundtrack information (with a full track listing).
DANCELIFE PREDICTION: The Great Gatsby Soundtrack will be 'THE next big thing' for dance studio competition and concert routines. Get a copy as soon as you can and make sure you see the film!!