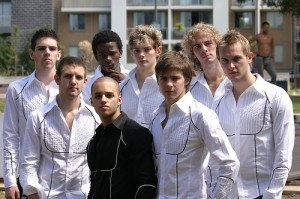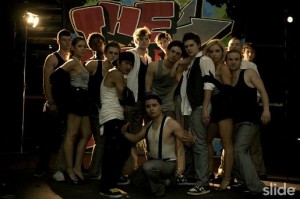 The Next Step is a dynamic performance group that combines dance, musicians and vocalists to create a mind blowing, feet-tapping live show. The Next Step includes Hilton Denis and Khaly Ngeth both Top 20 in the high rating television show So You Think You Can Dance, Jason Lewis who has performed with the likes of Fergie and Tap Dogs and Steven Tannos who recently returned from 18 months in Asia performing in Cats.
DanceLife had a chat to the boys from The Next Step to find out more about the group and how they continually come up with fresh and captivating new material.
The Next Step
1. In five words how would you describe 'The Next Step' experience.
STEPHEN TANNOS
Ground-breaking, exciting, innovative, fresh and unforgettable.
2. Who came up with the concept for forming the group and why did you think it would be successful?
ADAM KATZ
Jason Lewis and Sean Robinson started The Next Step conceptualizing a unique show combining all forms of commercial dance, predominantly hip-hop and tap. These styles through their innovation expanded to include jazz, phenomenal acrobatics, breakdancing and various styles of hip-hop including popping, funk, nu school etc. In September 2006, vocalists, Carlos Velasquez and myself joined to provide The Next Step with an amazing new element, an audio dynamic and with Sydney uber-producer Michael D'arcy, The Next Step became the entirety of what was had always been envisioned, a completely original, never seen before showcase with the top talents in all creative vocal and dance fields, integrated in one phenomenal show!
3. Creatively, how is it working with each other when you all specialise in very different areas of dance and music?
ADAM KATZ
Each performer, regardless of their talent is the best at their own talent and respected by the other members for it.
Hip-hop director Jason and Tap director Sean are the primary choreographers and thus the dancers in both realms embrace the direction whilst adding their own styles and touch when needed.
The vocalists along with producer Michael D'arcy are in charge of making the tracks sound as fresh and new as possible. When lyrics inspire dance moves, the two are immediately integrated and when the beat is interesting, the producer integrates his own craft with that of the dancers, particularly the tappers and their rhythms. It's amazing fun to find the potential of working different talents off one another, especially for the reactions that we get from fans.
4. You are continually creating new concepts, routines and music. Where does all your inspiration come from?
ADAM KATZ
Every member of The Next Step aims to excel within their craft. The dancers aim to find new, fresh and contemporary ways to make their style of dance interesting and appealing.
There are so many styles which have not yet been explored or combined and the mere fusion with the individuality of each performer's craft, inspires creativity and great dance repetoire. As a vocalist, inspiration comes from what we see, a rhythm we hear, a melody that we create or a beat that we are given to write over. We write to inspire amazing dance routines and to gain the commercial appeal that tracks like 'Do it On The Dancefloor' has in bucketloads!
JASON LEWIS
It comes from each other. What is great about The Next Step is that everyone gets involved is some way or another.
The Vocalist write a great track which inspires the choreographers to create a great routine it just keeps going.
The boys are so talented and we always push each other to excel and improve  physically and creatively.

5. Although dancing is seen as more acceptable for males in this age, what was it like for you going through school and being a dancer? What got you through the hard times?
ADAM KATZ
Dancing and singing in highschool wasn't the most desirable quality.
However for the guys that were jealous of it's effect on many girls, they began to accept and even support it by the end of highschool. The girls loved it… which is really what it's all about… right?
STEPHEN TANNOS
My personal experience was very positive, i always had the support of my mates teachers and family, who encouraged me to follow my passion. My message to all the male dancers out there is to take the positives and ignore the negatives, most of the time jealousy is involved!
6. What advice would you give to other dancers who want to form a performance group? What key factors have made 'The Next Step' work so well?
JASON LEWIS
Live your dream and go for it. There's not enough work out there, so make your own i say!!
Everyone in The Next Step is very talented and all friends thats what keeps it together as well as we never stop working.
We are always doing new clips, charities and things to better our selves and as a group.


STEPHEN TANNOS
I believe the key factors behind The Next Step's success are the fact that we apprecciate each others strengths and weaknessses, were great mates and work together well, we genuinely enjoy each others company and most importantly The Next Step is very much a group, there is no leading man.
7. What can audience members expect from the live show?
ADAM KATZ
THE most mindblowing, amazing, entertaining, multi-faceted, crazy dance/vocal and performance showcase ever! A feast for the eyes and ears that will impress and inspire 🙂


JASON LEWIS
A high energy, jam packed performance by the best Tap, Hip-Hop, Beak dancers and vocalist's and musicians is this country.
The Next Step will be performing this Friday night 25 July at YU (Sydney) and on Sunday 10 August at The Metro Sydney – 2 Shows 4pm and 7pm. Tickets are available from www.metrotheatre.com.au.