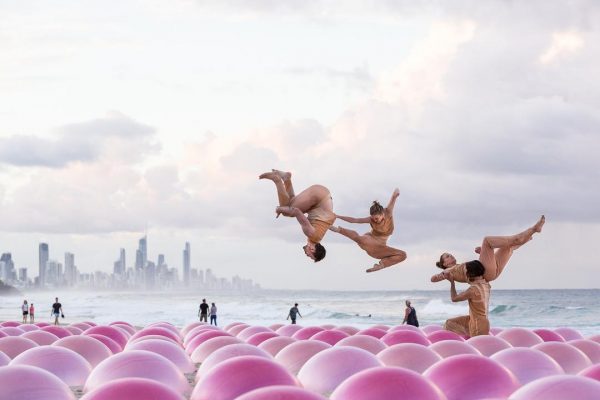 Dancenorth will Create Magic and Bounce on Burleigh Beach
Bleach* Festival | April 17 – 21
After a vibrant world premiere season as part of Strand Ephemera 2017, award-winning Dancenorth Australia will present Tectonic once again on Burleigh Beach, as part of Bleach* Festival 2019.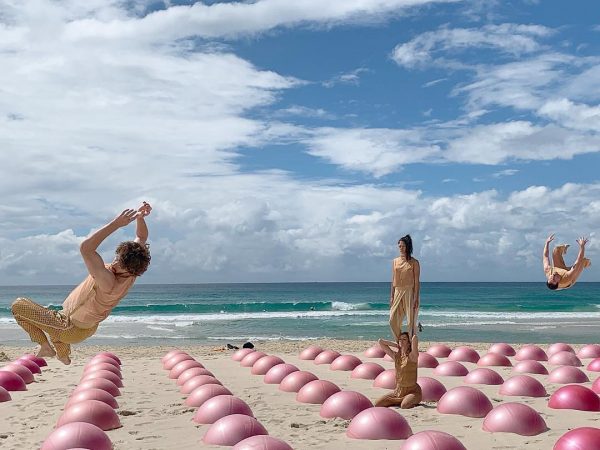 Using 180 fit balls embedded in the sand, Tectonic is a free 15-minute performance installation staged twice a night, 6.30pm and 7.45pm from April 17-21. Dancenorth's Company dancers will run, bounce, flip, soar and ricochet across Burleigh Beach in an adventurous performance unlike any seen before on the Gold Coast.
Performers from the Townsville based contemporary dance company, will use the partially-buried balls as micro-trampolines to ignite the energetic production which unites sculpture, movement and sound in a dazzling site-specific performance.
The fit balls remain buried across the 10-day festival, providing a large-scale installation piece for the public. Workshops will also be held during the day, offering the community opportunities to engage with the space outside performance times.
Dancenorth Artistic Director Kyle Page and Associate Artistic Director Amber Haines said Tectonic was inspired by the plight of the tiny Poruma Island community in the Torres Strait whose island home is eroding and sinking due to climate change.
"Poruma Island is home to 180 residents and is about as close to paradise as you can get. However, as global sea levels begin to rise, Poruma Island is disappearing," Page said.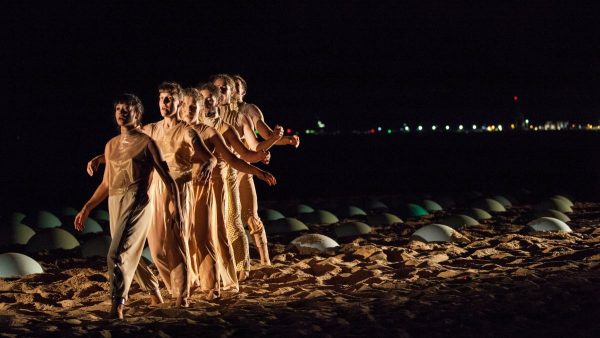 "Tectonic breathes life into the stories of the Poruma Island community, which has nurtured a deep connection with the natural environment for generations, choosing to live in concert with the world around them."
Haines said Tectonic was an examination of shifts – shifts in land, sea, time, space and thinking – staged poignantly against the backdrop of the Pacific Ocean.
"Tectonic is a collective journey, a shared responsibility, toward creating a sustainable future," Haines said. "Together we unravel the often-imperceptible shifts that surround us day-by-day, drawing attention to the accumulative effect of these changes and their potential to disrupt a viable future."
Bleach* Artistic Director and CEO Louise Bezzina said the visually arresting production also highlighted an urgent issue for many Pacific Island communities.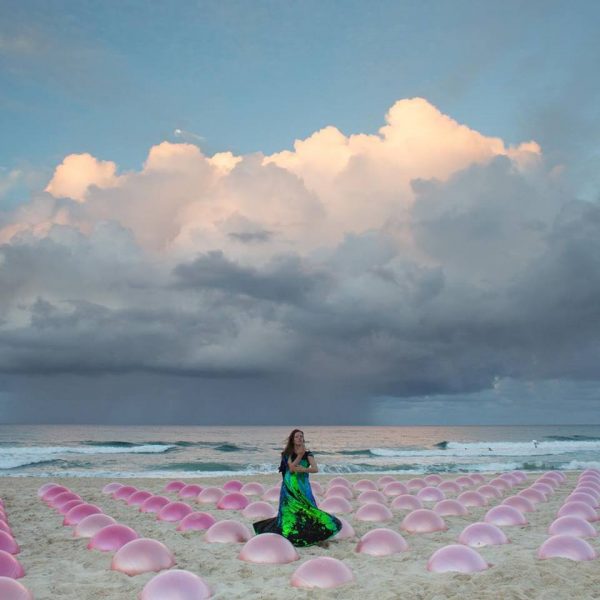 "This is a fitting show for Bleach* given we're a coastal community on the Pacific Ocean and Tectonic is staged on the stunning Burleigh Beach," Bezzina said. "I know the community will love this work, and leave thinking about immediate, very real environmental issues."
Dancenorth will also be facilitating workshops Thursday 18 – Sunday 21 April, 9:00am – 10:00am, offering the public the chance to try their skills on the Tectonic set with some of the Dancenorth Company dancers.
The Tectonic set will also be available for Free Jump & Play Monday 22 April, 10:00am – 4:00pm.
This event will be wheelchair accessible; the 'sandcruiser' beach wheelchair and viewing points will be available.
TECTONIC
Burleigh Beach, Queensland
Wednesday 17th – Sunday 21st April, 6:30pm & 7:45pm
Workshops: Thursday 18th – Sunday 21st April, 9am – 10am
Free Jump & Play: Monday 22nd April, 10am – 4pm