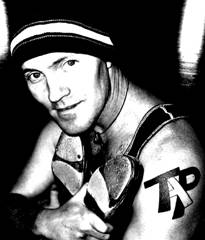 The Melbourne International Tap Festival is bringing Tap Back! The cream of the world's tap dancing artists will be unleashed on Australian audiences during the month of October. This exhilarating and inspiring festival of radical rhythms will continue to explore tap's rich and vibrant history whilst showcasing cutting edge techniques over one JAM PACKED week.
DanceLife chatted with the creator of the festival Grant Swift about bringing the MITF to Australia and his background and experiences as a well known tapper.
QUESTION:
You picked a style of tap which was in line with the early African American tappers. Why? And who of the tapping fathers has inspired you the most?
ANSWER:
The style of tap I do is connected to the beginning or the root of the art form and connected to other tappers and artists of other art forms like hip hop, jazz , lindy hop and so on. These art forms also recognise the same African root and they're keeping the family tree alive and growing. It's hard to name one tapper who's influenced me the most. I just try to do the right thing by all of them.
QUESTION:
Tapping has such a long history. Why is it so important, in your view, that students are aware of the root of tap dance?
ANSWER:
Knowing the root of anything allows you to draw from the whole tree. It's up to the individual to swing from whichever branch they want. I'm not about telling people where to swing but I want them to have the benefit and ability to be the best they can and for our art form to be seen clearly. Just as boxers should know about Muhamad Ali or cricketers know Don Bradman, kids learning tap should know Baby Lawrence, John Bubbles, Raymond Wynfeild and all the many amazing men and women who have shaped our art form. It's better for them and gives them more to draw from.
QUESTION:
What's the most important thing about your performing? How does it influence the experience of your audience?
ANSWER:
The most important thing in a performance for me is to feel I've given it everything and the audience have been entertained and inspired by what they've seen.
QUESTION:
As founder of the Melbourne International Tap Festival, why was it important to you to bring this sort of performing format to Australia?
ANSWER:
Bringing leading artists in our field here to teach and entertain every year is so important to the development of tap dance in Australia. Tap students and parents can see and understand what's got to be done and do it and at a lower cost than having to travel to the US.
QUESTION:
Do you have more plans for the tap festival in the future? Where else do you want to take it, geographically and philosophically?
ANSWER:
I do have a lot of plans to expand on the concept of the tap festival and to be part of helping tap dance get more out there. It's just a matter of keepin' on keepin' on.
QUESTION:
What is the single biggest obstacle you come up against as a tap dancer in Australia?
ANSWER:
Without sounding arrogant, the biggest obstacle I face as a tap dancer is ignorance to what our art form actually is – where it came from, its many great innovators of the past and present. For example, you could stop any number of people on the street and ask them if they know what tap is and I'd be surprised if any one said they didn't. Everyone thinks they know what tap is. But how many of them could actually name you seven tap acts outside of the usual whites only Hollywood era and the Tap Dogs? The number of people that actually do know is very small and I suppose that's fair enough for the general public who only know what they see on TV and in movies etc. But by educating the people who are learning the art form – especially the kids – things will get better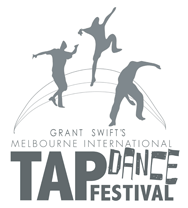 QUESTION:
You invest a lot of time and energy into teaching young tappers. When you started tapping as an adult did you envisage you would be inspiring so many kids? And how has that come about?

ANSWER:
I seem to attract kids, I think because they love all the yelling and simplicity of how I teach them. When I started tapping I had no idea I'd have a whole tap family of kids. I didn't even think I'd have kids of my own but I've got three now. You never know in life what's going to happen but I try to live and work hard for the things I love and feel I'm truly meant to do. I feel really lucky – just need some more money!
QUESTION:
What experience has most influenced your style of tap? And has your style changed over the years?
ANSWER:
Living on the street in New Orleans and surviving from tap dancing had a big influence on me. You walk down Bourbone St in tap shoes with no money to your name and keep your shoes on for 3 or 4 weeks you will learn a whole lot of stuff. Also working with Lamine Sonko – a great African drummer and dancer based here in Melbourne – has had a great influence and been a real blessing. My style has evolved over the years and I'm always learning new things. I keep my ears and eyes open, keep as fit as can and just try to keep going.
For more information on the MITF and the event schedule go to www.mitf.com.au The Festival will run from 15 – 20 October in Melbourne.