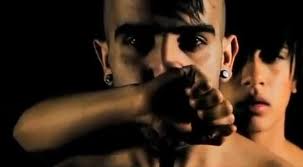 What can I say … AMAZING!!!  With standing ovations at all six shows from February 22-24, including VIP Industry night, clearly this show is meant to succeed! After viewing the sold-out Tannos & Choice show produced by Marko Panzic on 'Industry night' Thursday 23rd Feb, words almost escape me – which is rare!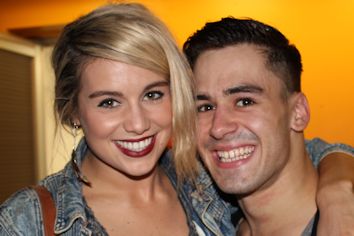 To quote Carly Cooper-Smith (SYTYCD 2010) … "It was surreal … better than anything DANCE I have seen in a very long time"
(Pictured here with Dancer Ryan Gonzales)

Literally born from a dream that Marko Panzic (SYTYCD Series 1) had several months ago, this show has embodied all that Stephen Tannos and Morgan Choice are as a choreographic force within the Dance Industry TODAY! Raw emotion is catapulted through every movement; executed by impassioned dancers who are totally invested in this work. The show explores the energy, synergy and mystery of human relationships in their many forms. It explodes choreographically and artistically with the use of multi-media and advanced stage and lighting effects.
This is what Industry personnel had to say about this amazing show!
Lucas Newland  (Teacher – Brent Street)  – "All the dancers were so amazing… so emotionally invested in the piece.. . A true inspiration to the Australian dance scene!"
Kate Wormald (SYTYCD Series 1) – " I absolutely loved Tannos & Choice, it was so great to see passionate, versatile & talented dancers showing initiative. The future of Australian dance is in great shape. What a fantastic show."
Joel 'JD' de Carteret – "As a film maker, director and dancer I was proud to see this generation of dancers incorporating film and dance in a live show. Tannos + Choice represent the true essence of commercial dance with professionalism and current, innovative & unique choreography – an amalgamation of creative talent from music production, lighting, film, choreography. All elements created by people who know and understand dance."
Jason Winters  (Jason Winters Contemporary Dance Technique – CSTD)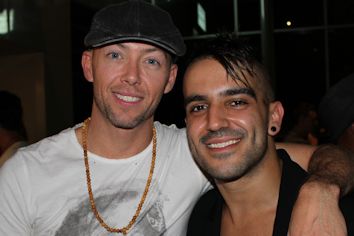 " I said to Tannos, 'I'm really proud to see this younger generation revitalising live performance!' It's great to see how tactile, passionate and real performance can be when it is directly in front of you and not on a TV screen or computer. There's nothing greater than the excitement generated from a live performance. I was particularly blown away by the female talent – they are equally as strong, diverse, dynamic and talented as the male ensemble."
The audience reaction was just as positive both in the theatre and as the foyer buzzed in the aftermath of the show.
Grace Lenan – (DanceLife ticket giveaway WINNER!) – "So inspiring, every element of the show is amazing and I loved every second!"
Ally Hill  (Sydney Professional dancer) – "Phenomenal show! It's so hard to describe the feeling – you're sitting on the edge of your chair entranced by how amazing this whole cast is! I'm so proud that I know these people personally and how hard they have worked to get here! This is only the beginning –  I can't wait to see what's next – I'm positive it will blow all our minds!"

The show opened with video footage of Morgan and Stephen discussing their relationship and inspiration for working together followed by the couple dancing physically in sync with the video choreography that has gained the pair a huge following on YouTube in recent months.
Their work is both sensitive and combustive with a spectacular new take on contemporary choreography. At times the rawness of the work is almost tribal and animalistic yet simultaneously juxtaposed with a tenderness of movement and story-telling that is palpable.
The dancers are both technically brilliant and emotionally connected to each gesture of Tannos & Choice's choreography.
RENEE RITCHIE – Featured dancer (SYTYCD 2010 -pictured here with Jake Green)
What has the r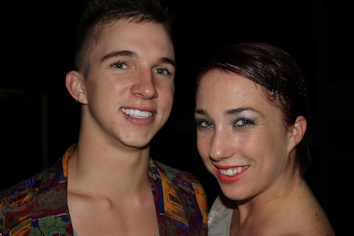 ehearsal for this show been like?
It's been alot of fun – some days we have been 'jamming' in the studio and sometimes it has been really intense – but overall quite enjoyable!
How have the dancers approached Tannos & Choice's choreography?
A lot of it we try to relate to our own personal lives – they give us an intention or story but it's up to us to relate it to our own experience and then portray it through our performance.
How has public response influenced the dancers' energy?
It has been really OVERWHELMING! We thought we would have a good response but not one as MASSIVE as it has been! It puts pressure on us to be even better the next time we perform!
————————–
… Breaking News …
Tannos & Choice is heading to Hobart. March 31st 2012.
Ticket information –  here
I managed to take producer MARKO PANZIC aside for a few minutes to ask him a few questions for our DanceLife readers. This is what he had to say …

How was opening night?
AMAZING! … and a huge relief!  It was great to hear the audience response and know that what I think is incredible, really WAS!

It's blown my mind, the response we have been given – this thing has 'grown legs' – We are now looking at a bigger and better season in September/October in Sydney. This is the entree; the 'main' is yet to come! This has blown my expectations and I realise now that this show can really travel the world!

I find that until now, Contemporary Dance hasn't always necessarily related to the general public – but Tannos & Choice offer a NEW WAVE of modern choreography – their show is a very emotional journey!



What can you say about Tannos & Choice?
Electrifying! Makes me remember WHY I dance!  I am totally inspired by the mind-blowing athleticism of this show – it is truly LIFE CHANGING! Their work pushes another boundary!



What inspired you to become a producer?
One night, I literally had a very vivid dream that showed me a picture that said, "Marko Panzic presents Tannos & Choice"! The next day I had dinner with Morgan and Stephen and shared my dream with them. It was literally born from a dream and a very strong feeling – how crazy is that?



What has been the most outstanding moment in this journey for you?
The first time I viewed rehearsal and was exposed to the choreography that Stephen and Morgan had done – as a choreographer, I got that FIRE back! It's what the next generation NEEDS! We have it all here in Australia, we just need to believe in ourselves!



What are your future plans for the show?
We will be bringing the 'main course' back in September/October to Sydney and for a longer season. We will also tour Perth  which is my home town, but our ultimate goal is to hit BROADWAY!

What's next for Marko Panzic?
I am LOVING producing on this show – to be honest, I want to focus time and energy on developing Tannos & Choice, to grow and give it 'wings'. In the future, I would love to give other Australian choreographers the same opportunities – to employ home-grown talent and produce shows of excellence is my dream!  I truly believe this show should be on TV to inspire the next generation of dancers and choreographers!!

And finally, STEPHEN TANNOS and MORGAN CHOICE took a breath at the end of an amazing night to sit down with me for a quick interview …

What inspired you to create this show?
Stephen – It all really came from Marko! We were all out one night and Marko said he had had a dream that said 'Marko Panzic presents Tannos & Choice'. We woke up in the morning thinking it was all 'talk' but he called me and said 'I'm dead serious' – it is something we have always wanted to do but didn't know how and here was Marko presenting us with a way!
Morgan – We wrote up a sketch of the show – a 'wish list' really of dancers, lighting, music, effects, the lot – this become our INSPIRATION!
What are your choreographic influences?
Stephen – Our choreographic influences have all really been about 'EMPOWERMENT' – we have tried to create a show inspired by the older generation of dancers and choreographers, but AIMED at the younger, new generation – we didn't want a conceptual show that may have been viewed as pretentious, but a REAL journey of the soul. Choreographic influences for me have come from talent such as Wade Robson – I am inspired to take every day issues and make them relatable through dance, not create something that goes over your head!
Morgan – I feel that our work is DANCE – not necessarily choreographically influenced – it's more about life experiences – things I've gone through – that I can relate to the audience through dance… completely from the heart!
What do you love about working with each other?
We make up for each other!
Morgan – Stephen has an amazing gift with musical choices, he has a great connection musically and he understands and is fantastic at directing, staging and lighting.
Stephen – Movement wise, Morgan has incredible technical ability … she pushes me to do things I don't believe I can!
'We are a great team'!
How did you select your dancers?
It came about one by one – quite organically! There was no audition as such, we just selected the dancers as we came across them either through our professional network or through the classes we teach on a regular basis.  We have known Cat, Lauren and Renee for a very long time and knew that they grasped our style. We came across each of our other dancers by seeing something special in each of them – they are all Creatives within themselves!
What can you tell us about your dancers?
They are the most real, living, raw dancers we have had the pleasure to work with! We have been to Los Angeles, USA etc,  but would not have cast differently if we had international dancers available to us. Australian dancers have SOUL, EMOTION, and are so CREATIVE – they have CREATIVE MINDS and SOULS that are worth nurturing! We would not have a show without any of them!
Any words of advice for aspiring talent?
Stephen – Always stay true to what you believe in! Be confident to develop what comes from the heart!
Morgan – Never let anyone tell you that you can't – everyone CAN – WE DID IT! SO CAN YOU!
If you were lucky enough to catch this show, give us some feedback to publish on the blog here at DanceLife!