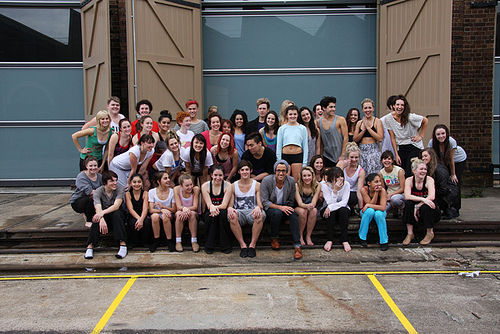 Over two full days at CarriageWorks, Ookina Management hosted an intensive workshop to mark the launch of Sydney's latest dance agency. Ookina Management has been in development for over 12 months, with Agency Director, Matthew Endycott looking to inject some excitement back into the Australian dance industry. "One of my goals from the very beginning, was to ensure that we had the 'complete package' before we launched, I am excited to say that although it's taken over a year to develop the agency, Ookina represent a wonderfully diverse, highly versatile, extremely talented network of performers" Agency Director, Matt Endycott said at the workshop.
At the intensive, held at CarriageWorks over two full days, agency talent were able to listen, learn and take notes from some of Sydney's most celebrated choreographers, including ; Jason Winters (Contemporary), Sarah Stollery (Contemporary/Funk), Zac Jaffar (Broadway Jazz), Andrew Sears (JFH), Jason Liu-Brennan (Technique), Rhiannon Villareal (Commercial Jazz) and Will Centurion (Argentine Tango). Included in the two days schedule was a makeup workshop 'Lips + Lashes : Casting, Audition + Performance Make Up' hosted by Steph Cainero, a 'Colours For You' personal style + colour workshop with Wendy Daniel, and 'Health + Nutrition for Dancers' workshop with personal health and fitness trainer, Paul Bulatao. As a last minute addition to the schedule, Agency Director, Matt Endycott taught a JFH workshop, and treated agency talent to a much needed Yoga + Meditation workshop to conclude the intensive with renowned Sydney Yoga practitioner Nick Fury.
"It was important to me, that when developing Ookina Management, we prepared all agency talent in all areas of the industry also. I want Ookina Management to be known as the agency who offers signed talent every opportunity possible to further develop their skills and performance ability, whilst providing them with a strong, supportive and approachable management relationship. The feedback from talent, parents and the wider dance community has been astounding.", Matt said.
The agency intensive at CarriageWorks marks the first of many workshops by Ookina Management to be hosted in Sydney, and across Australia over the next few months.
As Ookina Management prepares to launch, the team are working in conjunction with AT2 Creative on making final adjustments to the agency website and are currently working on the creative photography to showcase agency talent throughout the website, with renowned International director/photographer Marvin Joseph. Looking forward, Ookina Management have begun to work closely with partner agencies in London, Tokyo, Hong Kong and Shanghai and will proudly be sponsoring the upcoming 'Carnival : Choreographers Ball' in October, with the agency presenting a piece on the show, choreographed by Australian and American choreographers.
To request representation or for information about upcoming workshops visit : www.ookinamanagement.com.au
Photographs: Agency talent, with Agency Director, Matt Endycott outside Track 8, CarriageWorks.