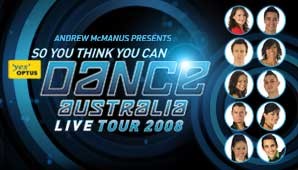 The SYTYCD Tour kicks off tomorrow night in Brisbane at the Entertainment Centre. The Top 10 have been rehearsing non stop for the past two weeks to make sure they bring you the best show possible. If you thought you were going to just see the same routines as they did on the show, you were wrong. Top choreographer William A Forsythe and DanceLife Blogger and Australia's Queen of Dance Kelley Abbey have been putting the dancers through their paces over the past two weeks, creating amazing new routines.
DanceLife would like to wish all the dancers good luck! We are lucky to have Kate and Kelley Abbey on board as two of our bloggers who will be writing about SYTYCD this month. These two articles will give you a great insight into the show as well as tips for preparing yourself if you are thinking about auditioning for the Season 2!
If you are heading to the shows please let us know what you think! We would love to see your pictures in the DanceLife Gallery.
Tickets are still available for the Tour. Go to www.ticketek.com.au or www.ticketmaster.com.au (Sydney Entertainment Centre) for more details.