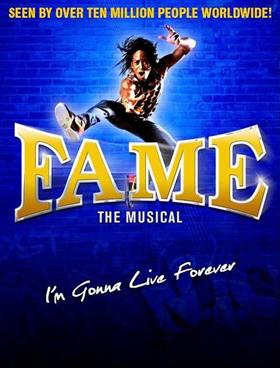 Sydney, get ready for the new high-energy production of FAME THE MUSICAL. Produced by John Frost and directed and choreographed by So You Think You Can Dance's Kelley Abbey, the musical that inspired new generations to fight for fame and light up the sky like a flame is back!
This multi-million dollar production of FAME THE MUSICAL , featuring some of the most dynamic choreography you'll ever see in the theatre, is coming to Sydney for a Strictly Limited Season at the
Capitol Theatre from October 14.
FAME is, almost uniquely, a classic of cinema, television and music theatre. The movie, released in 1980, won an Academy Award and swept the world. The TV show ran for six seasons, won numerous Emmy Awards and was broadcast in over 70 countries. FAME THE MUSICAL ran for a decade on London's West End and has been seen by over ten million people worldwide. It follows the story of a diverse group of students at New York City's celebrated High School of the Performing Arts who inspired a generation.
Audience members will no doubt remember Talia Fowler's name when she takes to the stage. The So You Think You Can Dance 2009 winner will play the classically trained ballerina Iris Kelly. In a case of life imitating art, Talia, who began training in ballet, jazz and tap aged 3, and enjoyed an inspiring and enviable career as a ballerina prior to her win, recently turned down a contract with the San Francisco Ballet company to take up this role!
Playing the role of the cheeky Tyrone will be Nigerian born Timomatic. Tim has inspired dance students of all ages and has built a solid reputation as a leader of Hip Hop culture as well as making the Top 8 for the 2009 So You Think You Can Dance.
Ever popular performer Andrew McFarlane, seen most recently in Underbelly, but known to many for his role in the long running soap The Sullivans, will play Mr Myers the drama teacher at the New York High School of Performing Arts. Joining him on stage in the role of music teacher Mr Scheinkopf is another long serving performer, the loveable Brian Wenzel, best known for his role as Sergeant Frank Gilroy from A Country Practice.
Audiences in Melbourne and Brisbane have already flocked see the show, and critics have raved:
"Should not be missed!" – Courier Mail
"A high-octane rocket ride!" – The Age
"Feverish, furiously energetic!" – The Australian
"Fame is fantastic, fun, funny." – Brisbane Times
"Passionate, razor sharp!" – Courier Mail
Don't miss this gritty urban drama awash with passion! FAME THE MUSICAL will take the audience to the pinnacle of desire and revive memories of youth, love, energy and risk.
BOOKING DETAILS
Venue: Capitol Theatre, Campbell Street, Haymarket
Season: From 9 October 2010
Opening Night: Thursday 14 October
Performance Times: Wed-Sat 8pm, Matinees Wed 1pm, Sat 2pm, Sunday 1pm and 6pm
Price: $79.90 – $109.90
Bookings: 1300 723 038 or ticketmaster.com.au
Groups of 12 or more (02) 8512 9020
TICKETS ON SALE Monday July 12
MESSAGE FROM DIRECTOR AND CHOREOGRAPHER KELLEY ABBEY
FAME has long been an extraordinary and very special force in my life. I was an aspiring young dancer when the original movie came out and it certainly further ignited my passion to follow my dream to become a performing artist.
Ten years ago I played the leading role of Carmen Diaz in David Atkins' FAME THE MUSICAL where I also made my choreographic debut in a stage musical. It was an amazing opportunity to combine many of the things I love into the one show. I was also fortunate to re-stage my choreography for FAME productions that toured throughout Asia and South Africa.
This year I make my directorial debut as well as choreograph John Frost's new production of FAME THE MUSICAL, and am again drawn into this amazing story of life affirming creative expression and celebration of talent.
David De Silva [Father Fame] created a phenomenon when he produced the original film in 1980, which then gave birth to an ever popular TV series. His story about raw, talented kids on a journey
of self-discovery and transformation via the performing arts, inspired a generation to pursue their dreams as well as painting a very real picture of life in show business.
Though some of us remain '80s nostalgic for dancers in legwarmers dancing over taxis and canteen tables, a new generation is now inspired by this timeless story where issues of literacy, drug abuse
and morality remain relevant.
I give thanks to my incredible cast. Some are new to the theatre stage, working alongside seasoned professionals. Essentially the show is about them – these thrilling performers. Art imitates life as I work with them on their FAME journey of self-discovery. Their joy, energy, passion and commitment inspire me to be better.