International Ice Dance Sensation returns with Swan Lake On Ice
Melbourne, Wollongong, Adelaide, Sydney
PLUS WIN!! … We have a double pass valued at $180 to giveaway to this show on Saturday 25th July at Sydney's Capitol Theatre. To enter send in your name and number to win@dancelife.com.au under the title 'Swan Lake On Ice'. Closes July 16.
The world's premier theatrical ice skating company, The Imperial Ice Stars, returns to Australia with its award-winning masterpiece Swan Lake On Ice, will tour in July.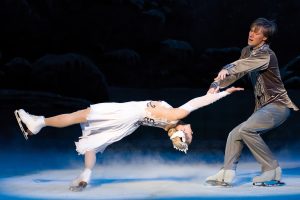 Showcasing 23 former Olympic, World, European and National Championship-level skaters, the highly accomplished cast will astound and mesmerise audiences with their adrenaline-rich, dramatic performance. Collectively, the entire cast holds more than 250 competition medals and will bring their athletic and artistic talents to retell the classic love story through precision leaps, throws and lifts.
Set to Tchaikovsky's glorious score in the intimate setting of a frozen theatre stage, the show features exquisite, innovative choreography as well as powerful story-telling created by Artistic Director Tony Mercer, widely regarded as the world's leading creator of theatre-on-ice.
In addition, awe-inspiring acrobatics, flying sequences, aerial gymnastics and spectacular fire-on-ice add drama and mystery to the theatrical experience. The dazzling and sophisticated costumes are designed by renowned costumier Albina Gabueva of Moscow's Stanislavsky Theatre, and made by the Bolshoi Ballet's famous costume cutters.
Since their debut in 2004, the Imperial Ice Stars have enthralled more than four million people in 27 countries across five continents, and have performed at some of the world's most prestigious venues, including the London Palladium and three seasons at the Royal Albert Hall. The award-winning troupe has built a worldwide following and established an unrivalled reputation for pushing the boundaries of contemporary ice dance in their sophisticated portrayals of classic works. Previous world tours (Sleeping Beauty on Ice, Swan Lake on Ice, Cinderella on Ice and The Nutcracker on Ice) have been greeted with nightly standing ovations and five-star reviews.
The popular troupe last visited Australia in 2012 with Sleeping Beauty on Ice, while Swan Lake On Ice last visited in 2010.
Imperial Ice Stars are the world's pre-eminent performers of theatrical ice skating within the intimacy of the theatre stage. Founded in 2004 by James Cundall, one of the leading producers of live entertainment in Asia and Australia, and Tony Mercer, widely regarded as the world's foremost creator of contemporary theatre on ice, The Imperial Ice Stars have established a strong international reputation and garnered worldwide critical acclaim for their sophisticated productions. With their innovative interpretations of classic tales, The Imperial Ice Stars continue to break new ground in the genre of ice dancing, elevating the art form and broadening its appeal to a more adult audience.
"Whether you've seen The Imperial Ice Stars before, or have yet to experience the thrill of world-class ice skating in the intimacy of the theatre, this dramatic new ice interpretation of one of the most popular ballets will take your breath away," said James Cundall, Producer and CEO of Lunchbox Theatrical Productions.
Swan Lake On Ice
Melbourne – 8 shows only!
State Theatre, Arts Centre
3 – 8 July
Wollongong
WIN Entertainment Centre
13 – 14 July
Adelaide – 8 shows only!
Adelaide Entertainment Centre Theatre
18 – 22 July
Sydney – 8 shows only!
Capitol Theatre
25 – 29 July