REVIEW | STOMP
Comedy Theatre, Melbourne, Tuesday May 1st
Review by Carly Crawford
It might be 26 years old, but STOMP is crashing back onto Australian stages with more energy and vitality than ever.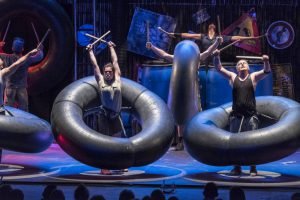 The international phenomenon started life on the fringe show circuit in 1991, quickly developing into a novel, intensely physical production of rhythm and beats created from seemingly mundane objects and human ingenuity.
Microphones line the edge of the stage floor to detect every thud, every swish and every clatter of the vast, eclectic range of appropriated objects used to bring to life the show's percussive heartbeat. The talented cast executes a sequence of masterfully choreographed routines featuring broomsticks, Zippo lighters, plumbing pipes, water coolers … even the kitchen sink!
Striking is the visual sound show composed by whirling paints tins which are tossed sky-high and timed to clash mid-air to create a clever and precise aerial symphony. The casts uses monster truck tyre tubes in ways we mere mortals could have never imagined.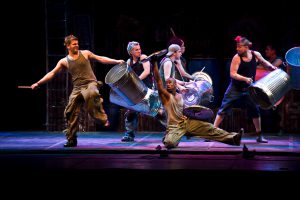 In an age where sustainability, recycling and waste management are increasing front of mind for many people, the idea of using waste for entertainment takes on new meaning. Not that the production is attempting any heavy social commentary. Far from it. STOMP is strictly light, bright and full of good cheer, a piece of musical comedy that aims to please.
And it has proven itself as one of those timeless pieces of musical comedy. Like a fine wine, it gets better with age. You'll never look at a rubbish bin … or a broom, or a lighter, or a paint time … in the same way.
Click here to read more about STOMP in Australia
@StompAUNZ #StompAU
www.StompTour.com.au
***
PLUS!… Win a double pass to STOMP in each city they are touring valued at $180! 


Melbourne – CLOSED
Gold Coast – Thursday 31st May 8pm     [entries close May 15]
Adelaide – Wednesday 6th June 8pm     [entries close May 22]
Sydney – Tuesday 31st July 8pm             [entries close July 13]

To enter, send in your name & phone number to win@dancelife.com.au with the subject title of 'STOMP – City Name' stating your preferred city to see STOMP. Winners drawn at random on the day of closing for each city.
---
STOMP!




Melbourne


Comedy Theatre
1 – 6 May 2018 (8 performances)


Gold Coast


The Star, Jupiters
31 May – 3 June (6 performances)


Adelaide


Adelaide Entertainment Centre
6 – 10 June (7 performances)


Sydney


Capitol Theatre
31 July – 5 August (8 performances)
Bookings

:   StompTour.com.au / Groups 8+ Save – Contact Ticketmaster Groups for more information / 1300 889 278 or groups@ticketmaster.com.au