In just several short years Stephen Tannos has made his unique mark on the dance and performing arts worlds, both locally and abroad. Last year he successfully co-created The Dream Dance Company's inaugural show, Genesis, following many years of being in demand as a choreographer as well as performing in musical theatre and coming to prominence during his time on SYTYCD in 2009.

DanceLife speaks to Stephen Tannos about his new short dance film – The Process.
Stephen Tannos is a busy man. Yet, it seems he is not content to be known only for his raw, innovative choreography and dance productions and is now working on making his name as a film director.
Tannos' latest creative output is The Process. This is a captivating 15-minute short dance film that explores the manic journey of a painter as he fuses his ideas of visual art through the worlds of dance, music and imagination. The Process, quite literally, explores the often-torturous process of creating art.
This is not Tannos' first foray into film-making, having already produced several other short films in the dance genre, but it is by far his most serious and professional work so far. Tannos is the film's director, producer and choreographer while the filming and postproduction is elegantly handled by FLUKEMEDIA's Luke Mercado, giving it a high-quality finish.
This is his second short film he has made in collaboration with FLUKEMEDIA – the first was 'The Widows' in 2013. "We have a great synergy together and will definitely continue to work together again."
As in the film, it is clear that Stephen Tannos totally relates to the struggle artists often go through to produce their work.
"This film was made over four months – on and off. It was a long process and I kept coming back to it with fresh eyes and ears. I produced it as well, which meant I scheduled all the talent and locations and shoots and took care of the finances. It was a very stressful project, but I did it to learn about the film-making process," said Tannos.
"It was crazy and I even lost weight during it all. I'm a very highly stressed individual and I brought that into this work, but I wouldn't have it any other way! The people that know me know what I get like during 'my' process. I have very intense emotions and if I wasn't like that I don't think my work would be as extreme. It's difficult to deal with sometimes."
The Process signals a slightly new direction for Stephen Tannos in that this film is more about the story telling than just choreography. It combines art, dance, music and story telling that originally sprang from a visit to Japan.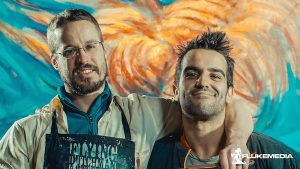 "I was actually sitting in a café in Japan and I saw an interesting artwork on the wall. It had interesting brush strokes and textures … and I thought about what it would look like if there were a live dancer in front of the artist as they painted. So from there the idea grew and grew. Originally it was going to be a five-minute short film with one scene and one shoot. But it turned into four months of creating and many scenes and eight days of shooting to produce a 15 minute film!"
Not a painter himself, Tannos found Hendrik Gericke to be his visual muse. "I can't even colour-in, so I hired Hendrik – aka 'The Flying Dutchman' – and he created five different paintings that I was able to get inspiration from for each scene. So each time you see a hand on the canvas it is actually Hendrik painting not me. Then of course we had to re-create the painting of each of those canvases for the shoot. It was a confusing way to get the story across but it works in the end."
There are five different dance sequences in The Process, all interpretations on the visual canvases being painted – from Spanish seductresses to MJ-esque street bad-boys. There's even a classy tap number! And there are some familiar faces strutting their stuff in the film as well as new talent.
"I have my core group of dancers that I always choose to gravitate towards for my creative – like Cat Santos, Lauren Seymour, Dayton Tavares – but I'm always trying to give younger, newer dancers an opportunity and platform to show their talents as well, so I've used a few full-time students in The Process too. There's a constant cycle of talent coming through the various studios now and if you stay in touch with that then your work is going to stay fresh and keep growing too."
Financially, Tannos has pulled this work together mostly on his own with a little help from online crowd-funding he undertook a few years to help bring his vision of a trilogy of dance films to life.
"I had a little bit of budget left over from that (crowd funding) but this project ended up being bigger and more expensive so I've funded most of it myself. It's been a big investment but the only way you can evolve is by investing in your craft so I have no regrets."
In fact, Tannos wants to encourage other dancers to venture into making their own dance-films and says his own inspiration came from American ex-world champion B-boy Daniel 'Cloud' Campos.
"Daniel 'Cloud' Campos was the first to show me what the genre of dance-film was and could be. Since then, my biggest focus has been making dancers the forefront of their own entertainment – to create their own successes. The dance film is a fairly new genre in Australia but it is really starting to emerge now, especially overseas, and people are starting to take it seriously and invest in it."
"The only hard thing about it is that there is no immediately financial return. But I would certainly recommend people consider creating dance films, as it is a perfect vehicle to package a dancer's works. It's just a way of creating a beautiful package to display one's work online. It's the next best thing to seeing a dancer's live performances and far better than a string of studio shot show reels."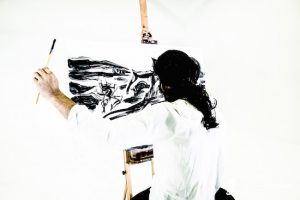 "I want to inspire and encourage younger, upcoming dancers and choreographers to take a risk and be creative – put themselves out there and its important for our country to produce artworks and support artists on a world scale because we have so much talent and quality."
So, I can't help but wonder: is this the end of Stephen Tannos The Choreographer? Have we lost him to film forever? Upon posing this question, he assures me that while this is the avenue he wants to ultimately pursue he is simply adding more strings to his bow, not replacing them entirely.
"My end game in ten years time is that I want to be directing feature films. I'd love to go the route of Baz Lurhmann or Quentin Tarantino! I love the way Tarantino fuses cinema and crosses genres and makes it works. I want to create things that people either love or hate. Plus I'd like to have my own dance company in the future also."
"This is about me slowly getting my foot in the door of another world besides dance that I haven't explored before – directing and producing – I'm a rookie! It's very similar to when I started choreographing seven years ago. But that's how life stays exciting isn't it?"
"I'm not giving up choreography, I'm just adding to it. In fact, I'm working on something very new and exciting now with dance right now but I can't say anything just yet."
We will definitely stay tuned Stephen Tannos.
WATCH AND SHARE 'THE PROCESS' NOW!!