Stephen Page's SPEAR brings dance to the big screen
A young man reconciles ancient tradition with the modern, urban world in this debut feature from Stephen Page, artistic director of Australia's renowned Bangarra Dance Theatre.
SPEAR was shown as part of the 2015 Toronto International Film Festival and is playing in selected Australian cinemas from March 10.
WATCH & SHARE THE 'SPEAR' TRAILER NOW!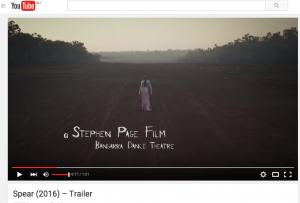 Dance as a storytelling film genre is getting increasingly credible and even more popular. In the case of SPEAR, indigenous storytelling in dance is front and centre, and its director and co-Writer, Stephen Page, is breaking new creative ground.
Acclaimed dancer and choreographer, Stephen Page is the artistic director of Bangarra Dance Theatre and has brought their outstanding dance work SPEAR to the big screen. Striking and original, Page weaves story through dance to deliver an extraordinary cinematic experience in his feature film debut.

Using gesture and dance, and with minimal dialogue, SPEAR follows a young Aboriginal man named Djali (Hunter Page-Lochard) from the outback to the streets of Sydney on his quest to understand what it means to be a man with ancient traditions in a modern world.
Featuring brilliant Bangarra dancers and an evocative David Page score that combines traditional and contemporary music,  SPEAR is an intimate journey.
Stephen Page believes that we connect to stories simultaneously at a number of levels, through the heart, the mind and the spirit. It's perhaps with this belief that he's become one of Australia's most celebrated artists as he continues to reimagine Indigenous storytelling both through his work at Bangarra Dance Theatre and his collaborations in other art forms.
The original dance theatre work of SPEAR in 2000 is a work that broke new ground, utilising song and spoken word, and demonstrated Stephen's desire to creatively push boundaries. Stephen had thought SPEAR would most lend itself to a screen adaptation. Whilst leading Bangarra, he continued his interest in telling stories in various forms through his direction of theatre shows and choreography in films such as The Sapphires and Bran Nue Dae.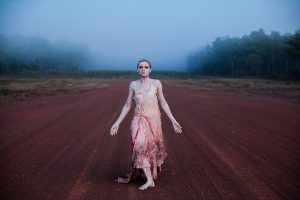 In 2013 executive producer Robert Connolly, producer John Harvey and Stephen Page began exploring the idea of reimagining  the original dance theatre piece of SPEAR for the big screen.
It was about creating something else – a film like no other – that draws upon various artistic forms in creating it's own unique language of storytelling, whilst maintaining the energy and spirit that has become synonymous with Stephen's works for Bangarra Dance Theatre.
Bangarra Dance Theatre became a key partner to the project, not just the company's dancers, but also their creative, productions and administration teams.

During 2014, Stephen and co-writer Justin Monjo started adapting SPEAR for the screen. They faced the challenge of translating a 40-minute dance theatre work into an 80-minute work for the screen, while keeping audiences engaged in the language of dance and movement without relying on the usual film tool of narration.
Stephen found himself reinventing his own language of storytelling which he has developed over the years in his directing collaborations with dance companies, theatre companies and film directors.
Pre-production began in January 2015 at Bangarra Dance Theatre bringing in Bonnie Elliot as director of photography, Jacob Nash as production designer, and costume designer Jennifer Irwin.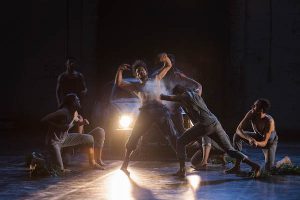 The film was shot on location in some of Australia's most alluring landscapes from the gritty city streets of Sydney to a wild rugged coastline that greets the Pacific Ocean. Avoiding iconic Australian landscapes of the desert outback and golden beaches, Stephen wanted to show Indigenous people in a new light, a mixture of modern and old, but always truthful to the present.
SPEAR is a celebration of family, of spirit, and of hope. Hunter Page-Lochard, an original cast member from the theatre version of SPEAR, plays the lead in the film. He is also Stephen's son and a highly-acclaimed actor in his own right.
SPEAR is a poignant reflection on the continuing connection of Indigenous people to land, spirit and each other. Thematically the film explores issues affecting young Indigenous men.

Showing in selected cinemas from March 10 2016. Visit www.spear-film.com.au for session times and bookings.