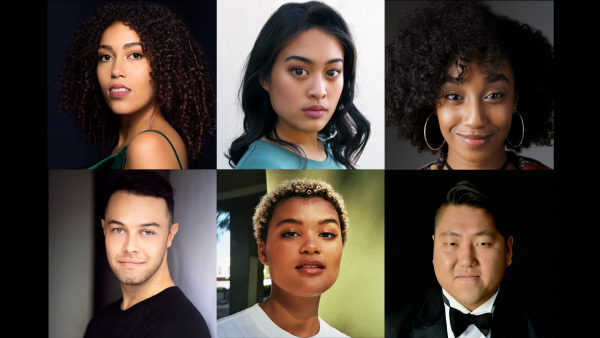 Artists of Colour Top 6 Finalists Announced
Scholarships & Prize Pool Over $30,000!
The Top 6 Artists of Colour Initiative finalists have been selected from the Top 30 semi-finalists. They are Grace Driscoll, Jarrod Draper, Lauren Cheok, Martha Berhane, Milo Hartill-Batsietswe and Raphael Wong. See who the Top 30 Semi-Finalists are here. 
"When founding the AOC Initiative I expected to find incredible talent. I expected to find artists of colour all over the country who were ready to show up and grab this opportunity with both hands. And I'll have you know that the Top 6 in particular have done exactly that," says AOC Initiative founder Tarik Frimpong.
The formidable talent of the AOC Initiative has shown that the future of the Australian musical theatre industry is bright. And by bright we mean diverse and unstoppable.
"It has been so inspiring to watch the array of talent show off their skills for the AOC Initiative submissions. To be part of a panel that stokes the flame for upcoming BIPOC industry talent is both humbling and so timely. The time for overlooking the diversely cultured talent in this nation is over and the AOC Initiative leads the charge in promoting positive change across the entire musical theatre industry," said panel member Tim Omaji.
When Frimpong and his 24 panellists selected the Top 30 they didn't anticipate the immediate formation of such an incredibly supportive community.
"Sitting in on private AOC Initiative workshops and Q&A sessions led by industry heavyweights Ryan Gonzalez, Will Centurion, Chloe Zuel, Rhys Velasquez, Jayme-Lee Hanekom and Gareth Jacobs brought me to tears. It was so powerful to see how the AOC Initiative applicants connected with each other, and to witness how they supported and championed one another," says Frimpong.
"Being a part of the AOC Initiative has made me so proud. I've watched the submissions with my jaw ajar, blown away by the talent. More than anything, I am excited by the shared passion that representation of People of Colour is a dire need in the entertainment industry. And, considering the talent, I have no doubt things are starting to change. Passion can't be taught and it is a powerful addition when we're talking about people with natural talent. The AOC Initiative empowers passionate, talented people and that is more exciting than I can express!" said panel member  Steph Tisdell.
The latest AOC Initiative GoFundMe campaign has raised over $30,000 with the target goal now set to $40,000. 100% of the funds raised will be awarded to the six finalists with the winner receiving 50% of the funds, the runner up receiving 20% of the funds and the final four receiving 7.5% each of the funds. The GoFundMe campaign will close early December.
In addition to this prize pool, the AOC Initiative is proud to have partnered with Patrick School of the Arts to offer one full or two half scholarships to attend their full time tertiary Musical Theatre Course in 2021 valued at $22,000. The course is directed by one of Australia's leading, award-winning musical theatre choreographers Andrew Hallsworth, and builds on the school's strong dance reputation complimented by intense drama and vocal training. Together with Swinburne University of Technology (RTO 3059), they offer nationally accredited VET courses in their programs.
The Top 6 finalists will also receive arts business mentorship from the team at Creative Plus Business (CPB) valued at $1,320. CPB are also donating four workshops to all of the AOC Initiative artists valued at $6,000 to upskill them in business. Creative Plus Business is a social enterprise dedicated to educating creative people and arts organisations about business skills.
Dance brand Energetiks has also come on board to support the finalists with a $100 voucher each with their mission to inspire and support all dancers to perform well and live well.
A reminder that two AOC Initiative applicants will also each receive a full scholarship valued at $12,000 to attend Village Nation Performing Arts in 2021 to receive their Diploma in Musical Theatre. These courses are unrivalled with a strong emphasis on personal development both practically, mentally and emotionally to prepare the students for the rigours of the entertainment industry. Winners to be announced in the coming weeks.
For the final round of submissions, the finalists must submit one video of themselves singing or rapping any song from a musical written by a Person of Colour; one video of themselves singing or rapping any song written or performed by a Person of Colour (the song must NOT be from a musical); one video of themselves dancing/moving to any song written or performed by a Person of Colour; one video of themselves performing a monologue written by a Person of Colour that contrasts their second round submission and a typed response to the question: "What does being one of the Top 6 finalists of the inaugural AOC Initiative mean to you?" Submissions for this final round will close on Monday 7 December and from there, one winner will be announced!
The 2020 AOC Initiative panelists are Barry Conrad, Bree Langridge, Callum Francis, Cessalee Smith-Stovall, Chenoa Deemal, Daniel J Puckey, Dean Drieberg, Fiona Choi, Kurt Kansley, Laura Tipoki, Leah Howard, Miss Cairo, Olivia Vasquez, Ruva Ngwenya, Sello Molefi, Sophia Laryea, Steph Tisdell, Tarik Frimpong, Thando Sikwila, Tim Omaji, Tyrel Dulvarie, Vidya Makan, Will Centurion, Yasmin Kassim and Yvette Lee.
The AOC Initiative is a scholarship competition designed to provide financial assistance and industry support to six exceptionally talented theatre performers based in Australia that identify as Bla(c)k, Indigenous or as People of Colour. The Initiative was born from the recognition of underrepresentation of these communities in the Australian theatre industry. The aim of the scholarship is to ensure greater participation within the field of musical theatre amongst these marginalised communities.
The AOC Initiative was created by People of Colour for People of Colour fighting for change in the Australian musical theatre industry.
"There is power in numbers. We are stronger together and I feel so proud to be an artist of colour," says Frimpong.
#aocinitiative #artistsofcolour