Sing Your Heart Out Loud to The Sound of Music | 27th February
For over a decade, Frauleins and Friedrichs, Louisas and Liesels, and Baronesses and Brigittas have come together at The State Theatre, Sydney to celebrate a few of their favourite things…
Bringing the Austrian Alps of Salzburg to the aisles of Sydney's State Theatre, Sing-A-Long-A Sound of Music is back for two very special shows – 1pm and 7:30pm on Saturday 27 February.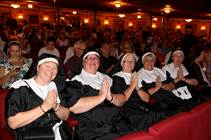 Join us for an unforgettable musical experience where you the audience are the star performers. See the original film in all its glory up on the BIG screen, with song sub-titles so you can sing-a-long!
Each year, hundreds of the films' fanatics go above and beyond dressing to the nines with costumes to rival those of the originals.
This year we are delighted to welcome back as celebrity host, Katrina Retallick, one of Australia's foremost leading ladies with an ever growing list of theatre, film and television credits to her name. Katrina will lead the pre-screening vocal warm up, give a guide to the use of the interactive fun packs and accompanying actions, and with a little help from the audience, judge the costume parade – an exciting highlight which brings the die-hard SOM fans front row and centre.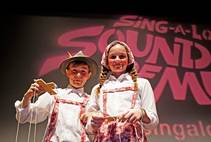 Given free rein to be extra quirky and creative, the event has seen an impressive array of spectacular costumes, from deer (female deer of course) to girls in white dresses with blue satin sashes, from curtain-clad Von Trapps to brown paper packages tied up with string, not to mention Flibbertigibbets and larks who are learning to pray!
First staged in Australia in 2001, Sing-A-Long-A Sound of Music continues to thrill audiences globally. Have your complimentary magic moment mementos handy, warm up those pipes and settle into one of Sydney's most iconic theatres with song's you've heard for more than 50 years.
Whether you are a family of stage-destined musical belters or a secret shower singer, Sing-A-Long-A Sound of Music is a bucket-list experience you cannot miss!
www.singalonga.net
Sing-A-Long-A Sound of Music


State Theatre, Sydney
Saturday 27 February 2016 at 1pm & 7.30pm
(runs just under 4 hours, including a 20 Minute interval)
BOOKINGS: 1300 139 588 or Ticketmaster.com.au
PRICES: Adults $59 | Group (8 or over) $51 | Concession $46 | Family (2 Adults 2 Children) $160 | Child (under 15) $37
Take a peek at a Sing-A-Long-A Sound of Music from The Today Show in 20111: www.youtube.com/watch?v=enRKyAiL8RA