Side Show: A Special Sisterhood Bond – Literally!
Hayes Theatre | 23 Sept – 16 Oct
The Australian premiere of Tony-award nominated musical SIDE SHOW will play for a limited 4 week season at The Hayes Theatre, Sydney.
SIDE SHOW tells the remarkable real-life story of Daisy & Violet Hilton – identical conjoined 'Siamese twins' who were joined at the hip and became travelling side show celebrities in 1930s America. This stunning true story from the composer of Dreamgirls, depicts how the Hilton sisters grew up touring America in a travelling 'freak show'. But when their spectacular talent and charm was discovered, they became a national sensation and the highest-paid stars of 1930s vaudeville.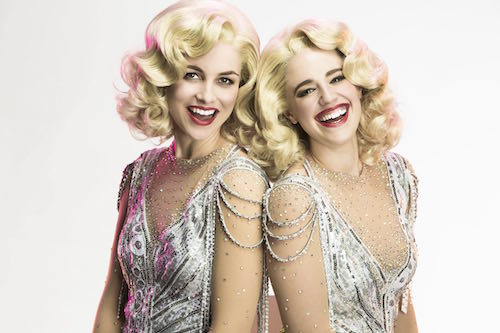 They went on to appear in the controversial 1932 film Freaks that was banned for 30 years. The film has since become a cult classic being referenced many times in contemporary pop culture, including on South Park, The Wolf of Wall Street, Orange is the New Black and most recently in American Horror Story: Freak Show.
The Australian premiere of SIDE SHOW will be directed by Richard Carroll, choreographed by Amy Campbell, musically supervised by Steven Kreamer and musically directed by Conrad Hamill.
Daisy and Violet follow their dreams from the margins of society right to the very top, but for each of them one question still persists: 'Who Will Love Me As I Am?'
Produced by One Eyed Man Productions, SIDE SHOW stars Laura Bunting (Wicked, Rent) and Anne Greenland (20165 Helpmann winner as Eponine in Les Miserables) in the lead roles of the sisters.  Also featuring Daniel Belle, Gabriel Brown, Laura Bunting, Kerrie Anne Greenland, Michael Hart, Bree Langridge, Lachlan Martin, Joshua Mulheran, Elenoa Rokobaro, Berynn Schwerdt, Timothy Springs, and Hannah Waterman.
"Kerrie and Laura had never met before they auditioned together, but their instant connection was thrilling to watch," said director Richard Carroll.
"When we heard their powerful voices together singing 'Who Will Love Me As I Am?', we knew instantly that they were a perfect match. Their instincts, openness, and lack of inhibition with each other was totally disarming and endearing – just as Daisy and Violet should be. They're both well-known to musical theatre audiences for their stunning vocal prowess, and SIDE SHOW  gives them the opportunity to showcase that again, while also giving them the most challenging acting roles of their careers. And to be able to surround them with 10 other excellent actors of such range and variety makes SIDE SHOW  unlike any other show we have seen at the Hayes."
Presented by One Eyed Man Productions in association with Hayes Theatre Co
Book & Lyrics by Bill Russell
Music by Henry Krieger
Director Richard Carroll
Musical Supervisor Steven Kreamer
Musical Director Conrad Hamill
Choreographer Amy Campbell
SIDE SHOW
23 September – 16 October 2016
Performances: Tues 6.30pm | Wed – Sat 7.30pm | Sat 2.00pm | Sun 5.00pm
Previews: $55 (all tickets Fri 23 Sep, Sat 24 Sep x 2, Sun 25 Sep)
Cheap Tuesdays: $49 (all tickets $49 on Tuesdays)
Wed night, Thurs night, Sat mat & Sun: $60
Fri & Sat nights: $68
Bookings: hayestheatre.com.au | (02) 8065 733

Watch the rehearsals for Side Show here: