Bubble Dance Challenge Kicks Off Online Programs
Plus In The Zone 10 Week After School Workshops
Sydney dance organisation Shaun Parker & Company didn't let social distancing stop their latest dance project BUBBLE from continuing to develop; instead issuing a dance challenge to those involved. Now, they're inviting the public to get involved in the dance challenge, along with other new online programs. Read about BUBBLE here.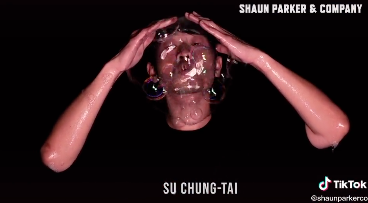 Artistic Director Shaun Parker says that whilst the traditional methods for creating new dance works are being challenged in current lockdown circumstances, the novelty of dancing together virtually has given rise to a new type of challenge – how to take dance online?!  Not just for artists working together, but also to engage the public during this period of isolation.
Shaun's first dance challenge for the BUBBLE creative team started with Taiwanese Bubble Performance Master Su Chung Tai, who has been working with Shaun Parker to create a new dance work which harnesses his incredible, record-breaking bubble skills. Tai's final movements on the video were picked up by Western Sydney hip hop dancer, Libby Montilla, who then added his own moves to the sequence, before the dance was then thrown to and added to three other Sydney dancers involved in the creative development: Samuel Beazley, Rachel Trent and Isabel Estrella. This virtual collaboration spawned the idea to involve others, and so the Company is introducing new online programs that invite the public to get dancing with the company's artists.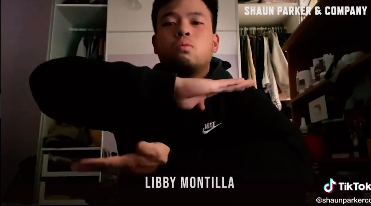 BUBBLE was originally scheduled to be performed in March with a public interactive element, but was postponed due to the novel coronavirus outbreak. It was billed as a unique, experiential performance that, true to its name, uses bubble art alongside contemporary dance to explore complex themes such as the genesis of the universe.
Next is the Shaun Parker & Company Dance Challenge, which will see the Company's dancers stage a Tik Tok Takeover everyday, posting new moves, inspired by found objects in their home, on the Company's TikTok account daily. They could be pets, parents or patchwork quilts!  Hip Hop dancer Libby Montilla kicked things off with some great hand-washing, a vacuum cleaner dance and cup-tutting. They're inviting the public to grab their moves and take them further. And don't forget to use the tags: #dancechallenge #shaunparkercompany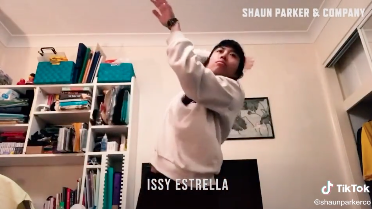 "Seeing our dancers replicate the last moves of the previous artist and then take the dance in a completely new direction has been so exciting with BUBBLE," said Shaun. "I would love for keen dancers all over the country to join us and add their own moves and talent to what has the potential to become a truly global dance chain!"
Additionally during this unprecedented time, Shaun Parker & Company is launching a new series of In the Zone Online Workshops which are after-school workshops that have been devised in association with one of the Company's latest production In The Zone. Giving kids the opportunity to learn hip hop skills in their own home the workshops will take place every Thursday during Term 2 commencing Thursday 30th April. For children aged 8-12 years, the workshops will run from 5pm to 6pm. For ages 13-18 years, the workshops will run from 6.30pm to 7.30pm.
Hip hop dancer Libby Montilla will demonstrate a variety of dance moves that were performed in the In The Zone show, and participants will then learn to develop their hip hop, tutting and popping dance skills while being able to directly interact with Libby throughout each session. Read about In The Zone here.
Each participant who books immediately for all 10 sessions will also receive a free ticket to see In The Zone performed live by Libby on Saturday 19th September 2020 at 10am. Creative Kids vouchers can be applied to this program, making it a free option for many families across the state of NSW.
Watch the full compilation of the virtual BUBBLE dance collaboration here. 
TIKTOK BUBBLE CHALLENGE
www.tiktok.com/@shaunparkerco
#dancechallenge #shaunparkercompany
IN THE ZONE ONLINE HIP HOP WORKSHOPS


WORKSHOP ONE (Ages 8-12)

  ⏤ Thursday 30 April – Thursday 2 July 2020
Weekly @ 5pm-6pm