Elite Choreography and Performance Cements SDC as Contemporary Leaders
100th Performance of  '2 One Another' by Sydney Dance Company
Roslyn Packer Theatre, Walsh Bay, October 5
Reviewed by Heather Clements
Five years ago, the Sydney Dance Company (SDC) premiered 2 ONE ANOTHER, a new dance work created by artistic director Rafael Bonachela. It went on to receive critical acclaim, several awards and has toured nationally and to nine cities across North America, South America and Russia.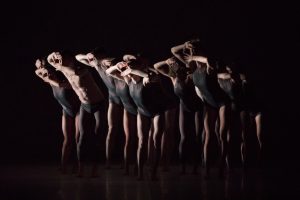 The show I saw marked the 100th performance of 2 ONE ANOTHER as a milestone for Bonachela's achievements while at the helm of SDC.  In 2013 2 ONE ANOTHER earned Australian Dance Awards gongs for best choreography and company performance, and it it easy to see why. This latest production will play from October 5-14 at Roslyn Packer Theatre, Walsh Bay, Sydney.
Quite simply, 2 ONE ANOTHER epitomises the relevance and appeal of contemporary dance. This show stirs up excitement, wonder, fear, and respect and appreciation for the human form. In just 60 minutes SDC will take you on a journey of many emotions that will ultimately leave you in a very good place.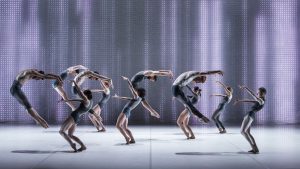 The show opens in silence with the full cast in formation on stage and spaced to represent the coming story – one dancer alone, a couple and a group – who then perform to a crashing electronica soundscape that literally shocks the audience to attention with sharp sound and lighting.
2 ONE ANOTHER is accompanied by original music by Nick Wales. It is haunting, reflective and romantic. Thankfully, the introduction of beautiful baroque-style chamber music cuts through the synthesised sound to introduce the first duo demonstrating the beautiful flow and connection with which SDC is synonymous. A moving cello piece introduces the next section of the story in groups of 4 delivering a fast-paced, work-like routine of heartfelt pumping rhythm with busy individuals telling their own stories while remaining strongly connected to their groups as well.
It is clear that Bonachela is all about creating number, order, connectedness, excitement and fluidity in 2 ONE ANOTHER. It is visually and musically a stunning work. Both powerful and poetic.
The first of the solos are delivered next, showcasing the individual dancers before transitioning back to groups of 5 and 6, this time to synthesised sound and plucking strings. This denotes a change of tone in the work where couples are now more edgy and in conflict which only intensifies the movement and mood as the dynamics of the strings build.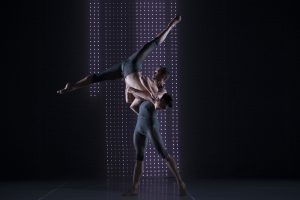 A highlight here was the powerful male duo of Todd Sutherland and Bernard Knauer where the strobe lighting and monochrome set so beautifully matched the intensity of the dancers interactions on stage.
The piece then moves to five duos in perfect unison before the drumming style music and quickening strings build to a climax of all dancers on stage where true excitement is palpable. This is brought to a sudden end with the cast quietly, but quickly, walking in all directions before settling on the front edge of the stage looking directly out at the audience – which has the effect of calming and re-centring the audience before the next change in direction is taken.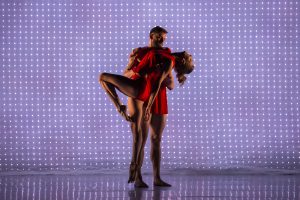 Red. Next we see colour for the first time. The introduction of colour in production signals a new direction in the last part of 2 ONE ANOTHER.  Red light and red costumes replace the monochrome style and also introduce the most breathtakingly beautiful and intimate duo by Juliette Barton and Bernard Knauer as they perform intricate floor work that simply held me mesmerised while the backdrop colours changed from red to blue to white and pink.
Next, choral notes are introduced to the music score which brings another new tone to the piece. The soaring strings and score build to a climax where the whole cast is on stage in a perfect unison of movement and energy. Again the excitement is visceral. Finally, birdsong and plucking strings bring the audience down to earth as the dancers now perform sharp percussive movements that indicate their singleness once more before fading into black silhouettes against a bright dazzling backdrop.
2 ONE ANOTHER concludes with the awesome partnering between Barton and Knauer as they are left supporting and depending on each other in the the rich coloured light.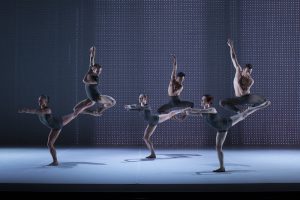 The great strength of Sydney Dance Company is that while the whole company consists of incredibly technical and talented individual dancers; as a group, they perform in perfect synergy where no one is out of place and all work together to tell the same story. There are no weak links. Nothing and no one is a misfit in 2 ONE ANOTHER. However, I am compelled to mention I was captivated by the perfectly petite Charmene Yap whenever she was on stage. (Yap won the Helpmann award for outstanding female dancer for her performance in the debut of this show in 2012.)
The balance between the upper and lower body work in Bonachela's choreography is sublime. It seems the upper body creates the angles and shapes while the lower half is an endless engine of power and  fluidity. All together, great shapes are created on stage in 2 ONE ANOTHER and Bonachela has interpreted the music perfectly in telling this story of human interaction.
Sydney Dance Company is at its most impressive when the entire company are on stage together performing as one. This is the case in 2 ONE ANOTHER and it is exhilarating. For a truly uplifting contemporary dance experience, be sure to see this epic work delivered by skilled artists before it ends its revival run.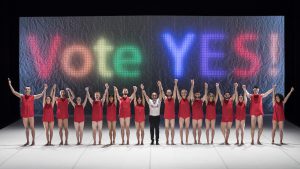 Finally, in a classy nod to the current marriage equality survey happening in Australia at present, the cast and director stood before a rainbow 'Vote Yes' sign, hands held, during the curtain call. Bravo!

2 One Another | Sydney Dance Company
5 – 14 October
Roslyn Packer Theatre, Walsh Bay