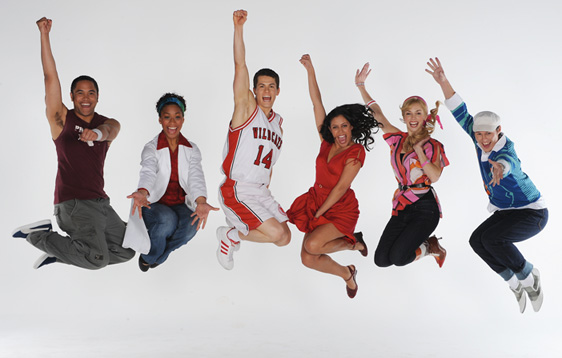 Musical theatre's horror start to 2009 has continued with High School Musical announcing an early end to its Sydney season at the Capitol Theatre and cancelling its entire national tour.
The sudden cancellation comes as speculation continues to surround the future of national musical theatre company Kookaburra, which has reportedly collapsed.
Producers are blaming the global financial crisis on High School Musical's failure.
"The last few months have been a difficult time for all families, so it is not surprising that family entertainment including large scale musicals such as ours are experiencing a drop in ticket sales," said co-producer Kevin Jacobsen.
Jacobsen's thoughts were echoed by his fellow co-producer Tim McFarlane.
"The production has received a great response from audiences and media alike and is continuing to have people dancing in the aisles at every performance," he said.
"It's a great shame that the rest of Australia will not get to see this fantastic production, but with the current economic situation it has become impossible to continue with a national tour."
Based on the Disney Channel Original Movie, High School Musical opened at the Capitol Theatre on December 18. The final performance will be held on Sunday, January 25 at 3pm. People holding tickets to performances post this date are being asked to contact their point of purchase.
High School Musical follows the plight of basketball captain Troy (Chris Durling) and the brainy but shy Gabriella (Rebecca Tapia) who discover they have a secret passion for singing. When they decide to audition for the student musical, it sends shockwaves through the High School's rigid social cliques.
Troy's basketball team, Gabriella's fellow science clubbers, even the drama regulars, do all they can to keep the pair apart and off-stage. When Troy and Gabriella defy their friends and family they inadvertently inspire the other students to go public with their own secret talents and dreams.
The Australian production opened to generally positive reviews and obviously targeted the family market during the December/January school holidays but the general public simply didn't respond.
The show's demise is devastating news for the cast, which thought they had months and months of work ahead of them. They are now left to survey the carcass of a project they worked so hard to create.
It is also particularly hard on regional centres like Canberra, which so often miss out on major commercial musicals but were going to experience High School Musical and its stellar cast.
Perhaps working against the stage production of High School Musical was the continued phenomenon of the film version. The show had to play up against High School Musical 3 at movie theatres, with many parents perhaps taking the less expensive option.
SOURCE: Troy Dodds (Aussie Theatre)